The first week of December has given us a bitter wind and the clearest, bluest skies. As you know, I'm not keen on the short dark days but I make an exception for the final month of the year.
I love December.
From the very first day — to the very last — it's a month full of excitement and anticipation.
The lead up to Christmas is usually a  happy one for me. The rituals of advent; calendar opening, present buying and planning for the big day are things that I relish.
I'm definitely a Christmas fairy — rather than a Grinch.
Talking of Christmas, if you're still looking for a present to wow the little people in your life — be it your children or even your grandkids — I wanted to share my number one best present idea with you.
I give you — drum-roll please — the Festival Food Van from GLTC. Ta-daaah!
A play kitchen with a difference; one to keep little ones amused all year round (certainly not just for Christmas).
This clever bit of kit is a master of disguise.
Quick View of What You'll Find on This Page
Is it a van? Or a play kitchen?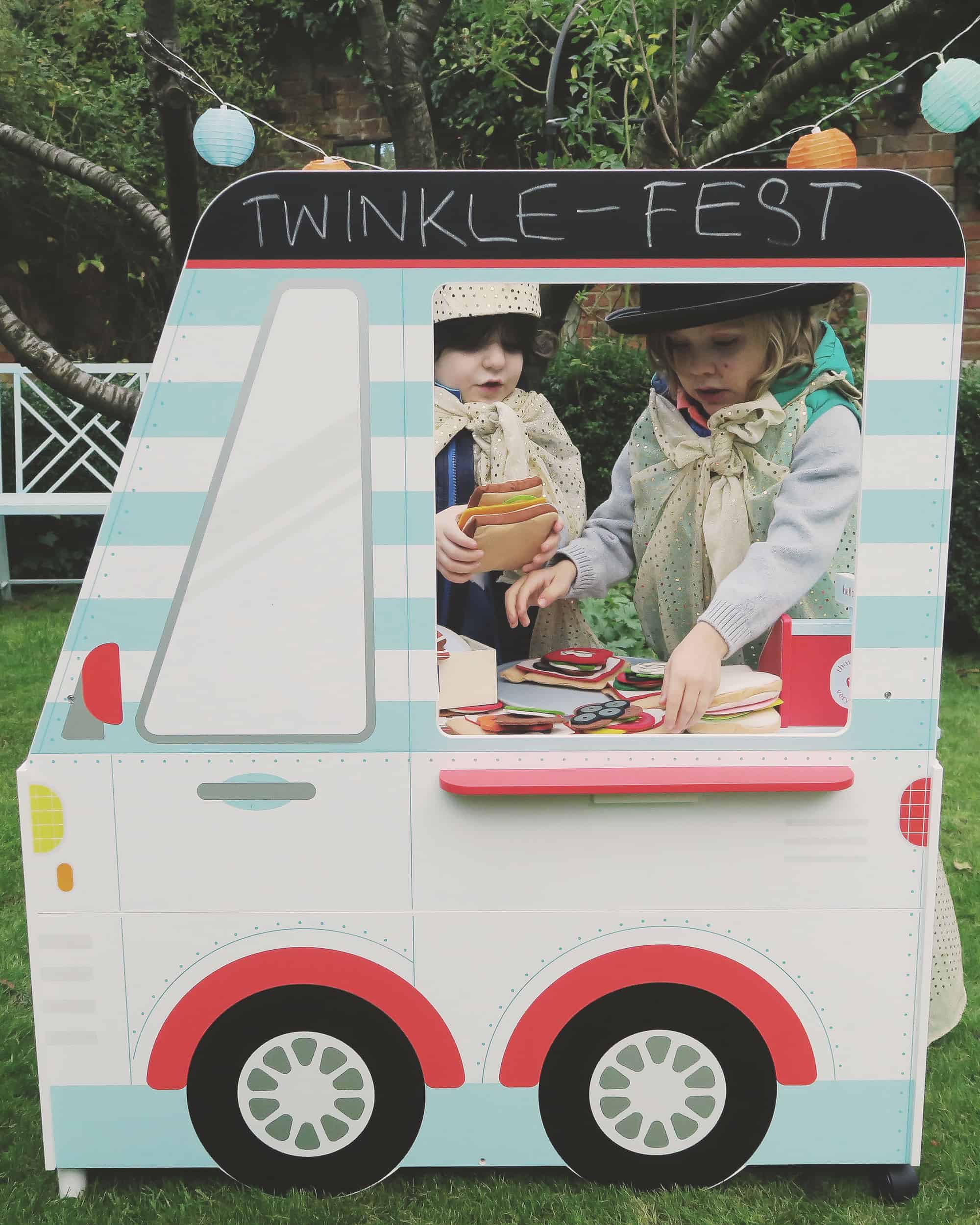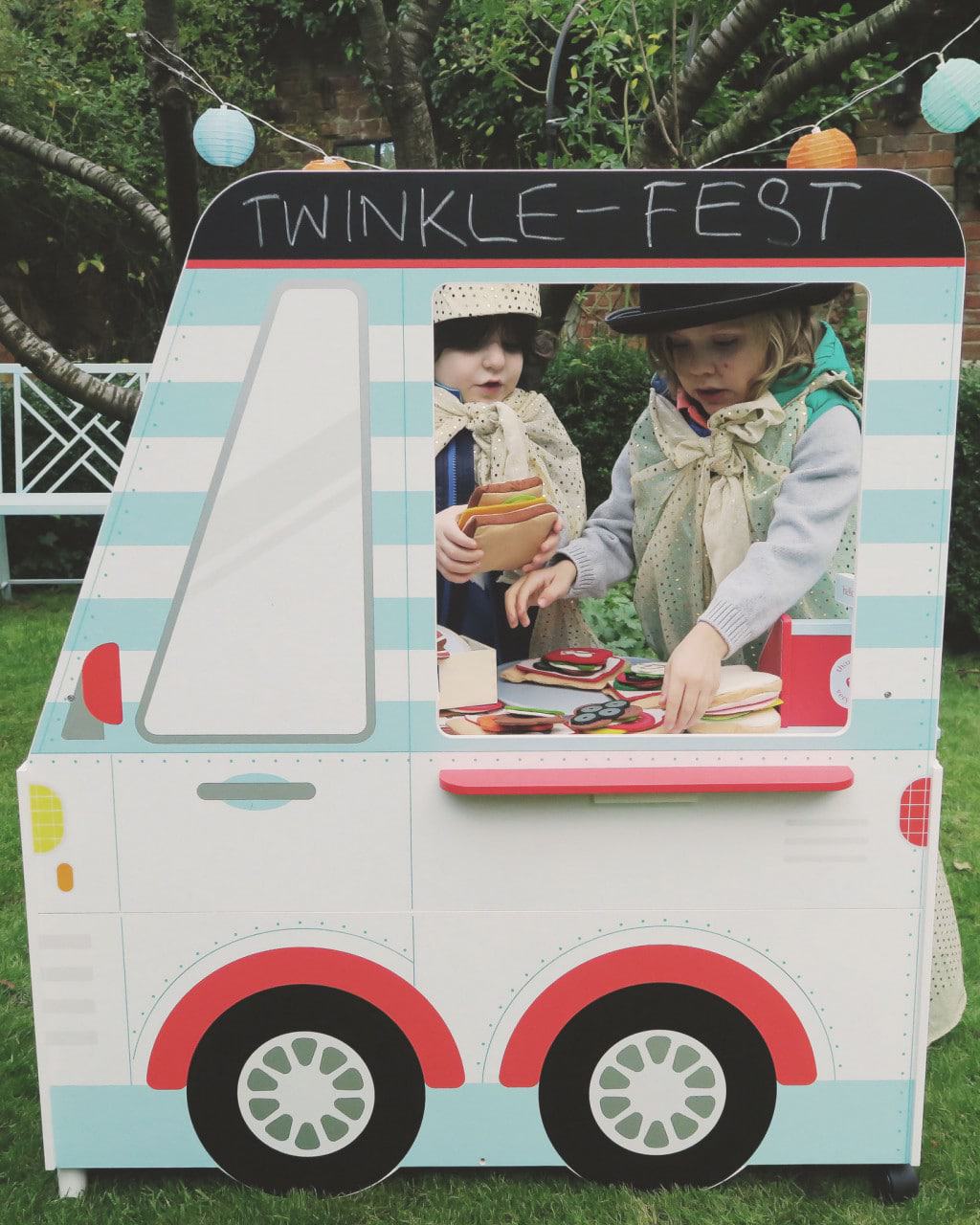 Well. It's both.
And — depending on how broad your child's imagination is — it also makes a great rocket-ship, post office and even a theatre.
Amongst other things.
It's been a catalyst for so much role play.  And it's one of those rare toys that they don't fight over.
It promotes very 'busy' play — if that makes sense? Lots of making and doing.
And it's very sweet to see these vivid little imaginations at work.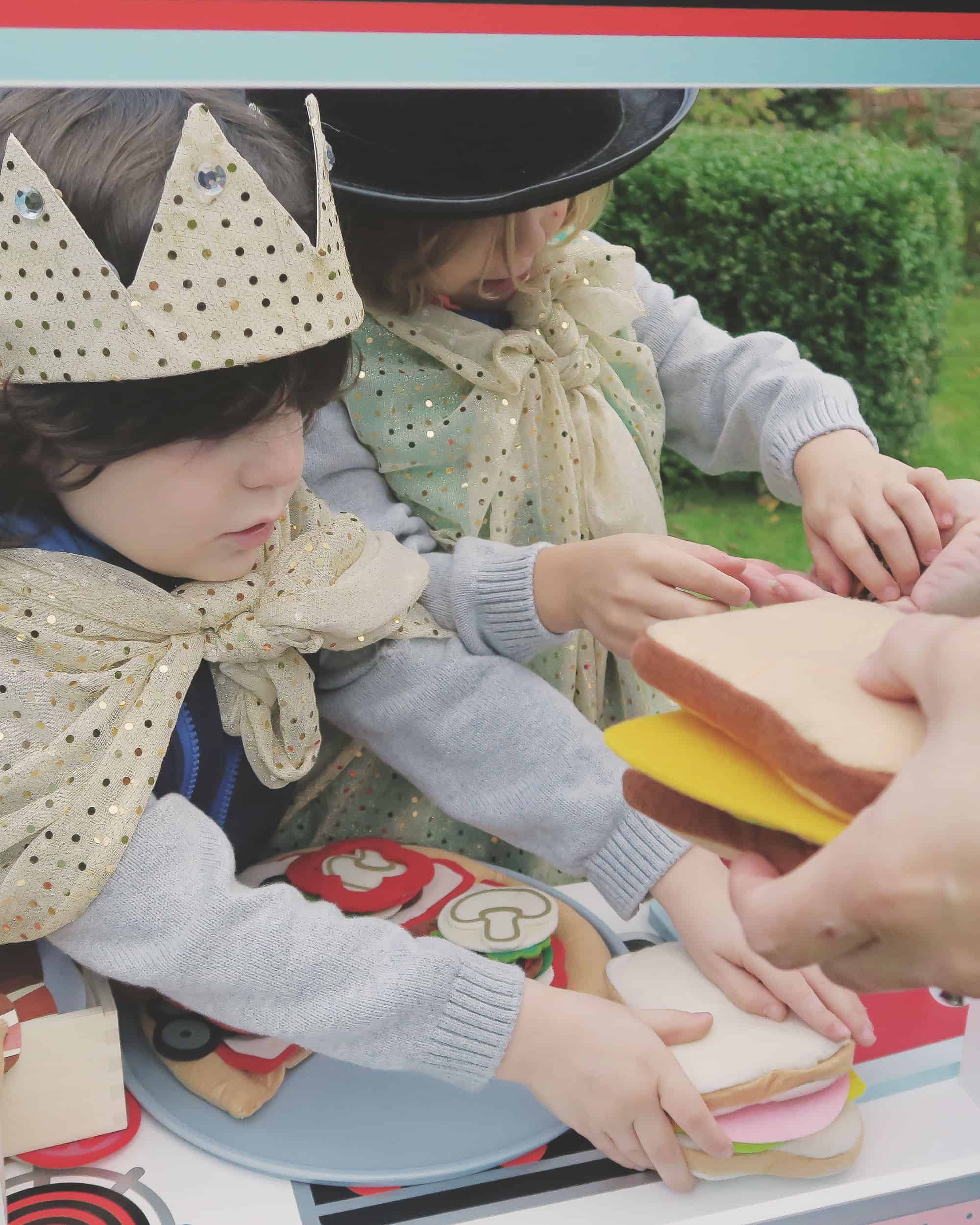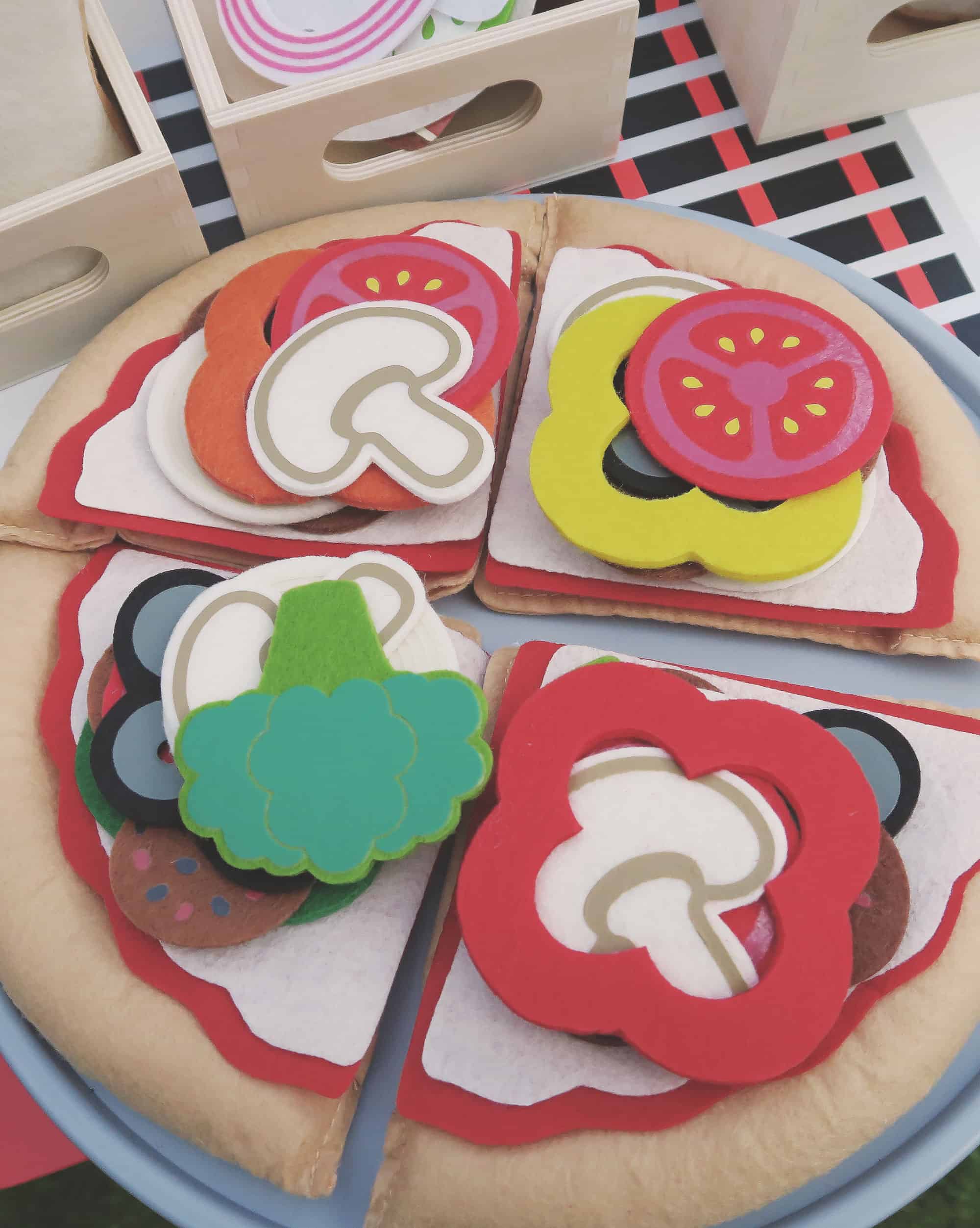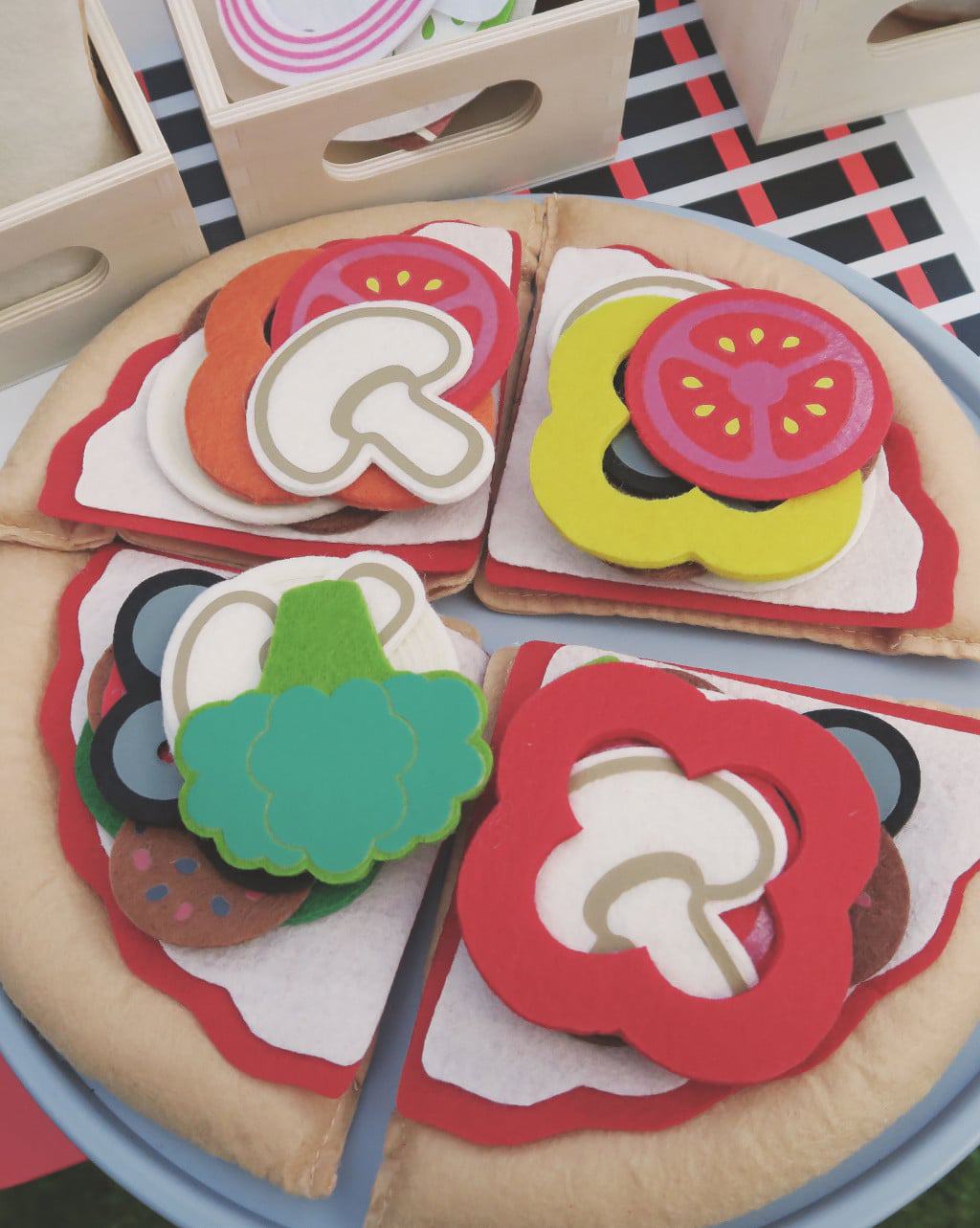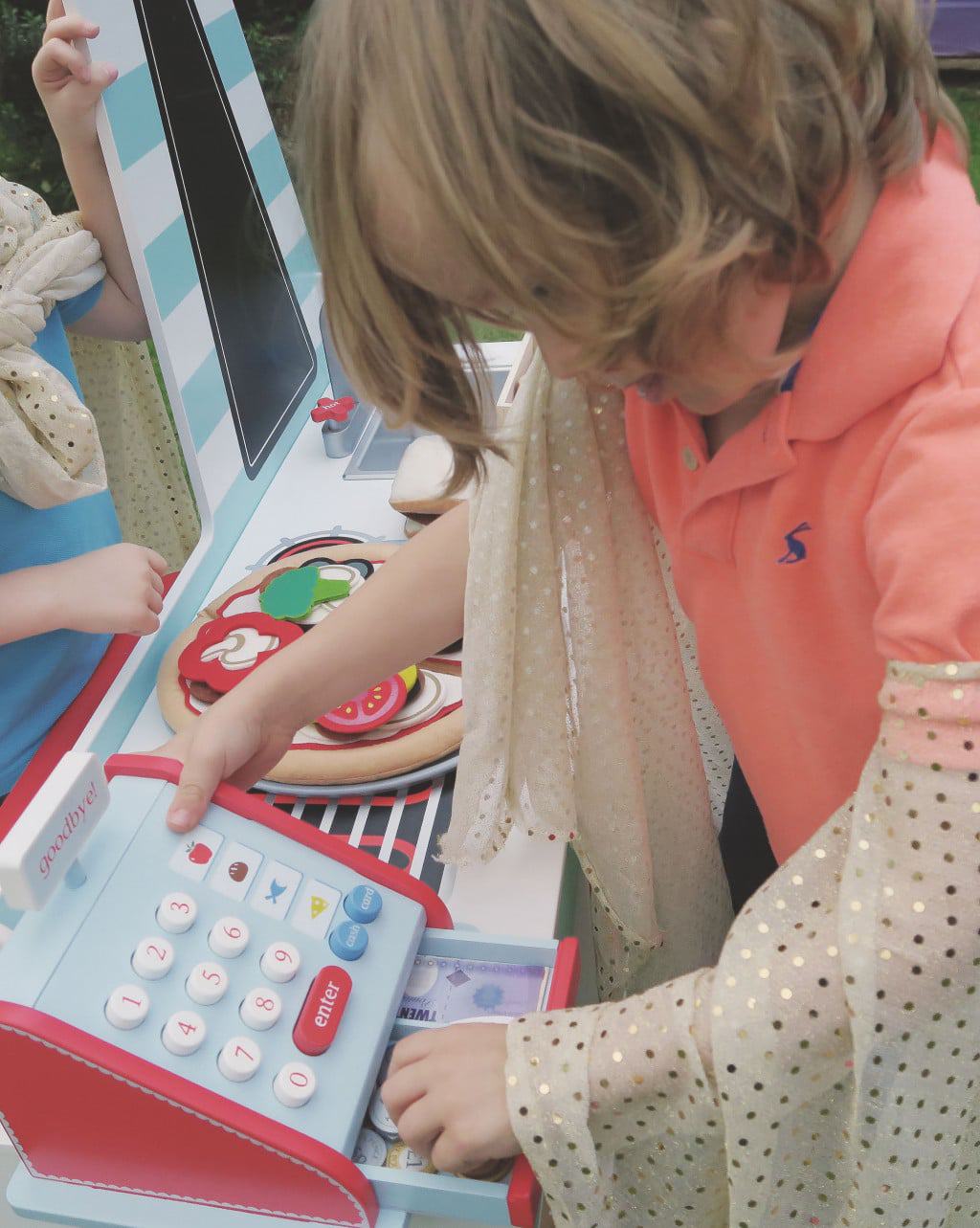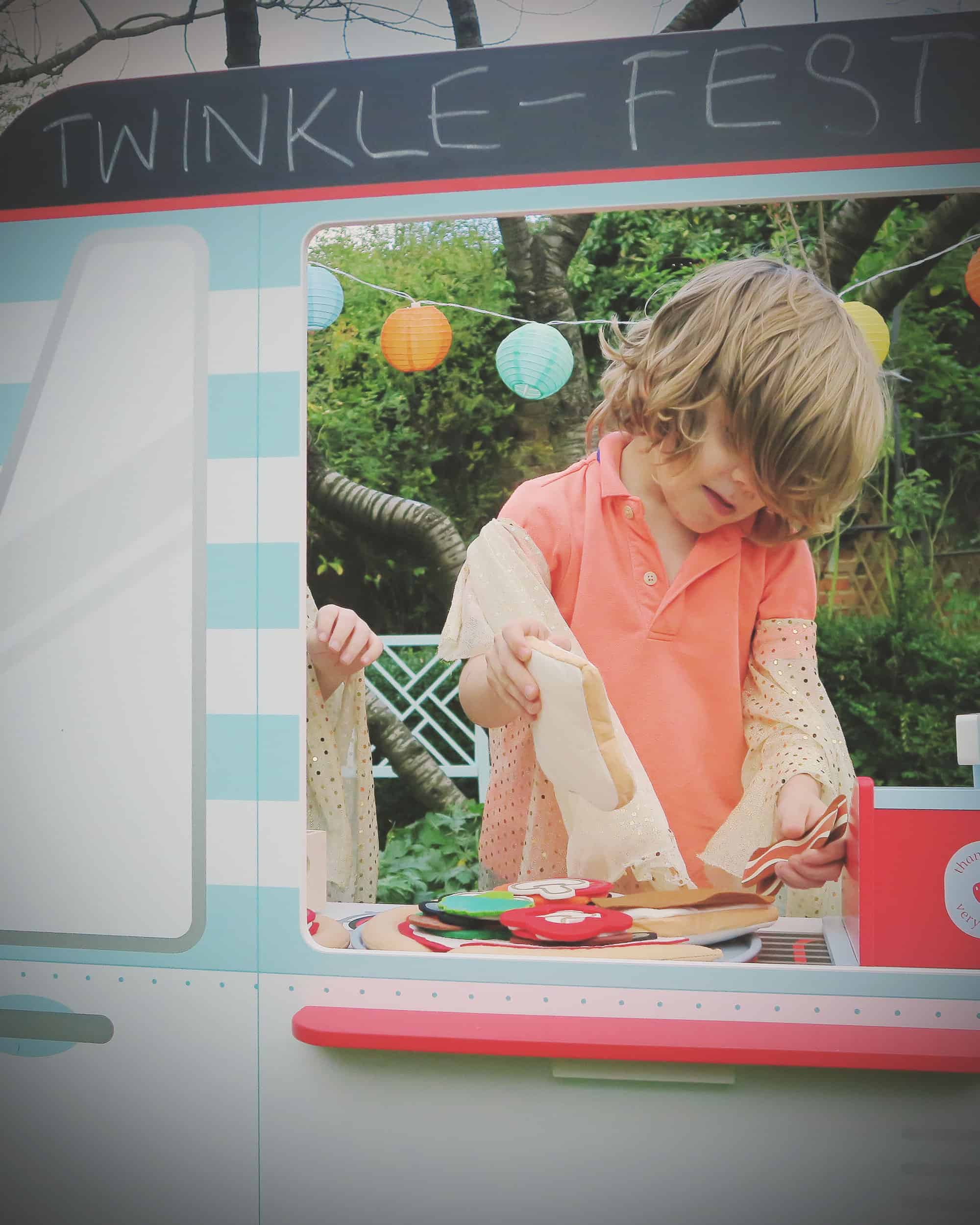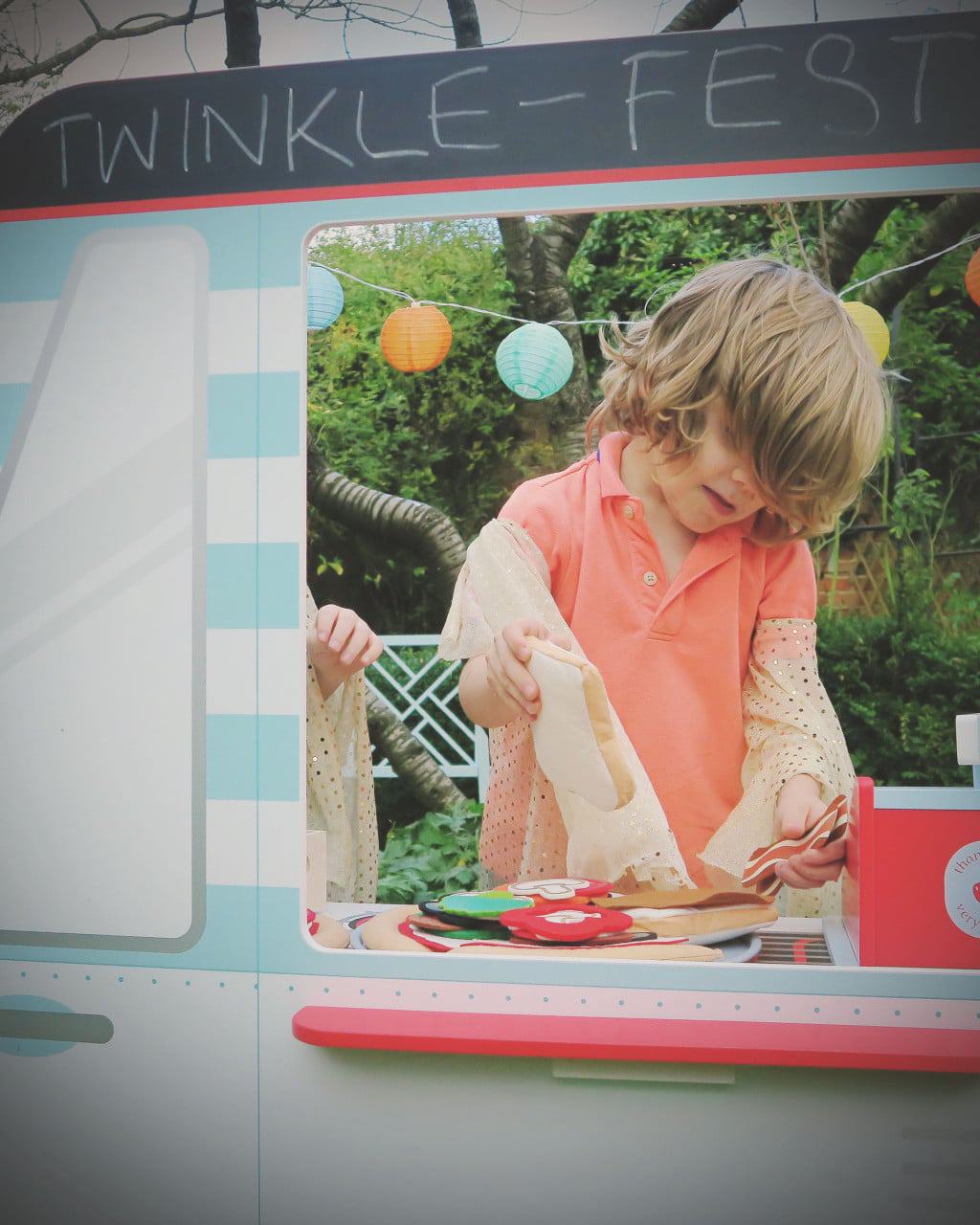 The Long & Short of It
It took the Twinkles' daddy around an hour and a half to put it together. Not a bad effort for something that's been the provider of many hours amusement for the twins.
And — as a result — peace and quiet for me.
Always a bonus.
It's a sturdy piece of kit (made out of wood and MDF) and has a couple of handy casters at one end, which means it can be dragged from room to room. Or outside.
The front of the kitchen is painted to look like a little vehicle — with wheels and a serving hatch. Plus a little chalkboard to write the name of your 'event' on.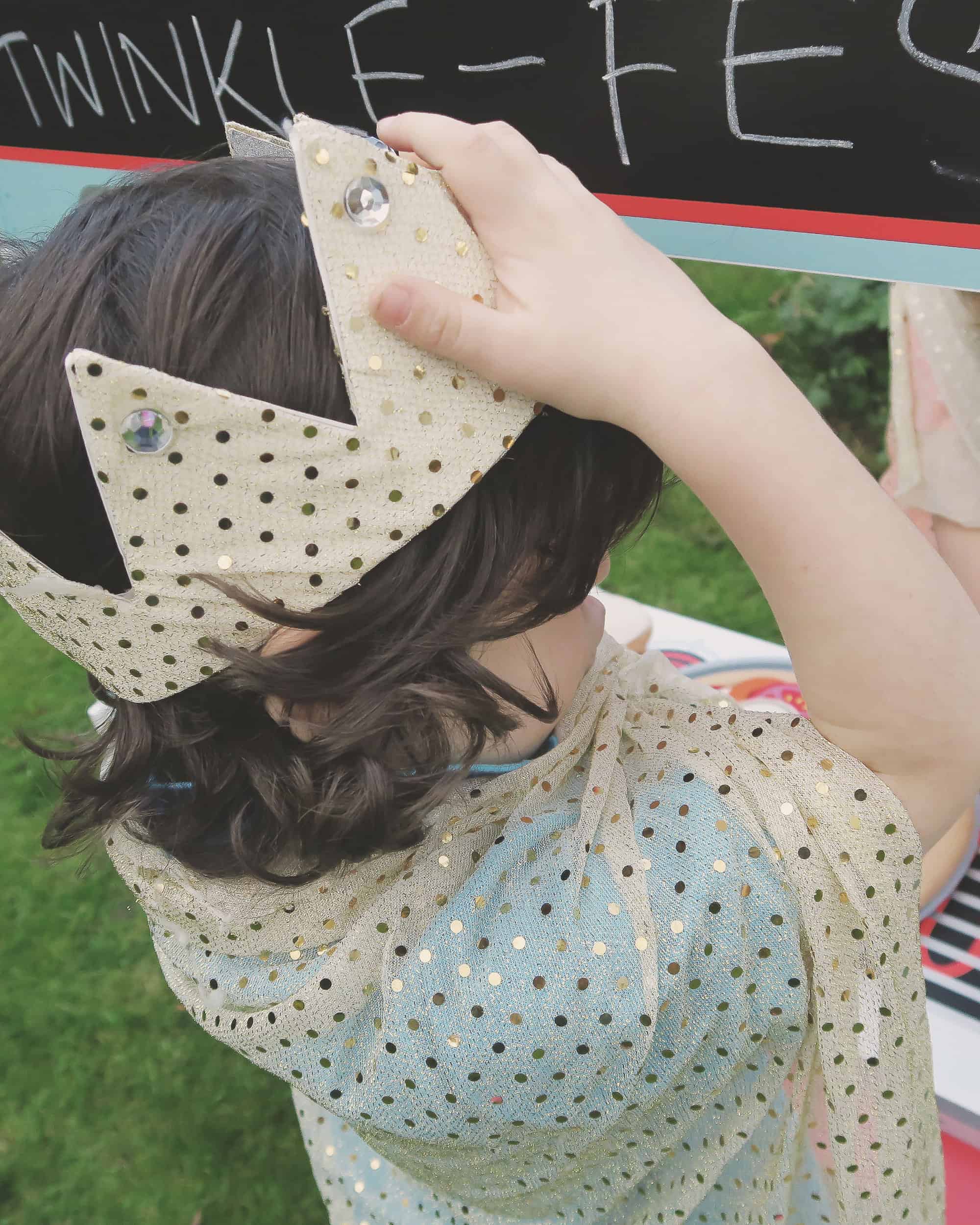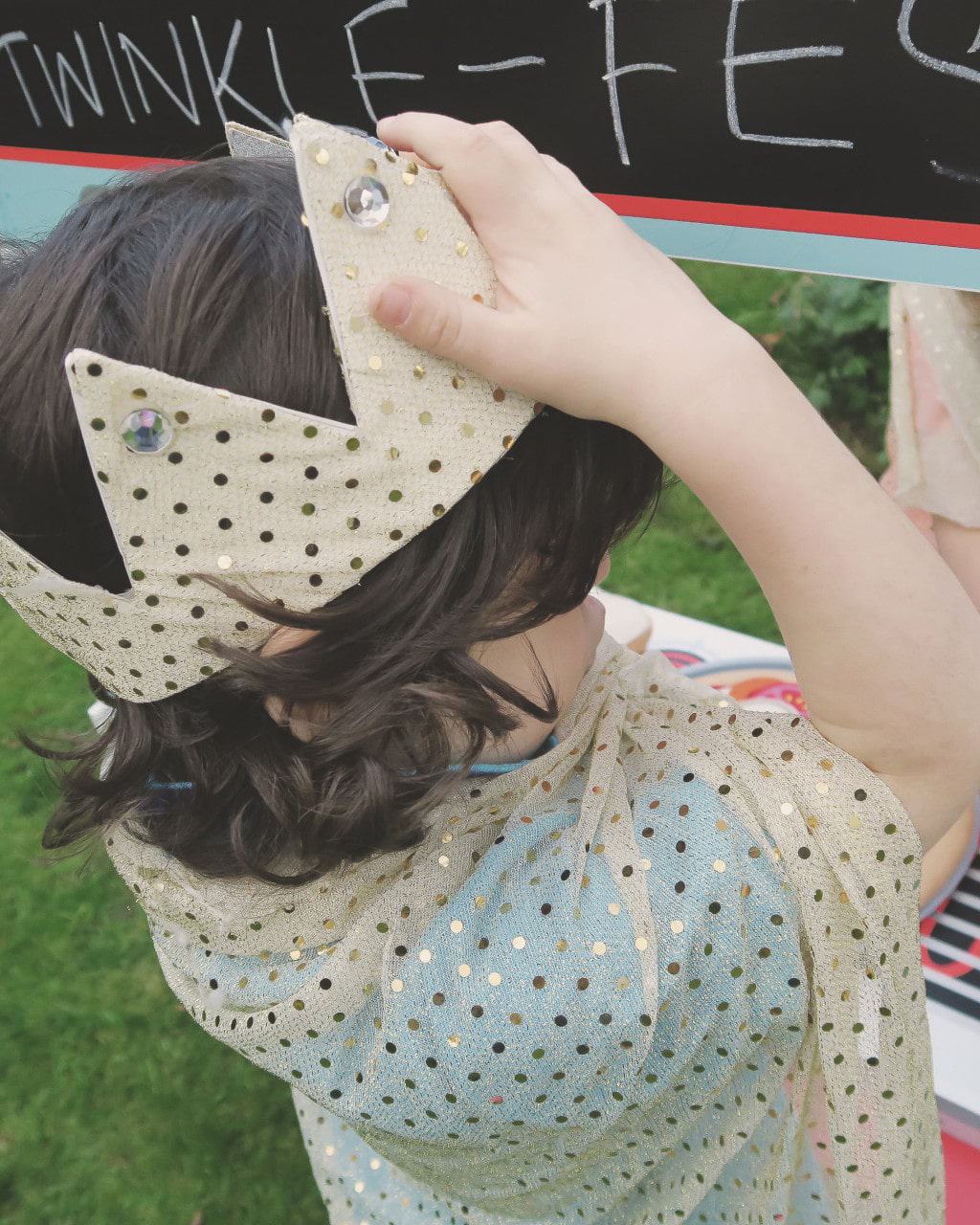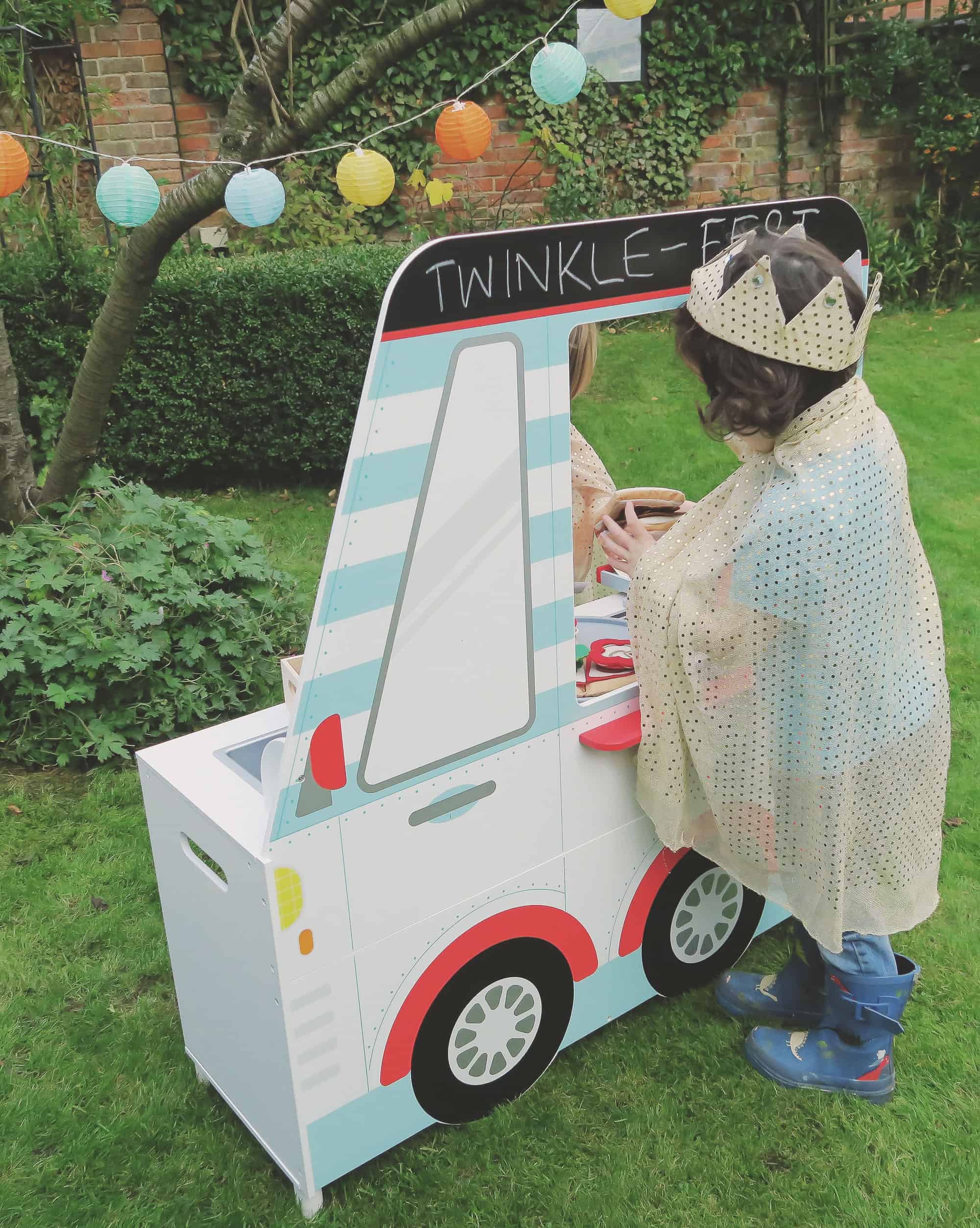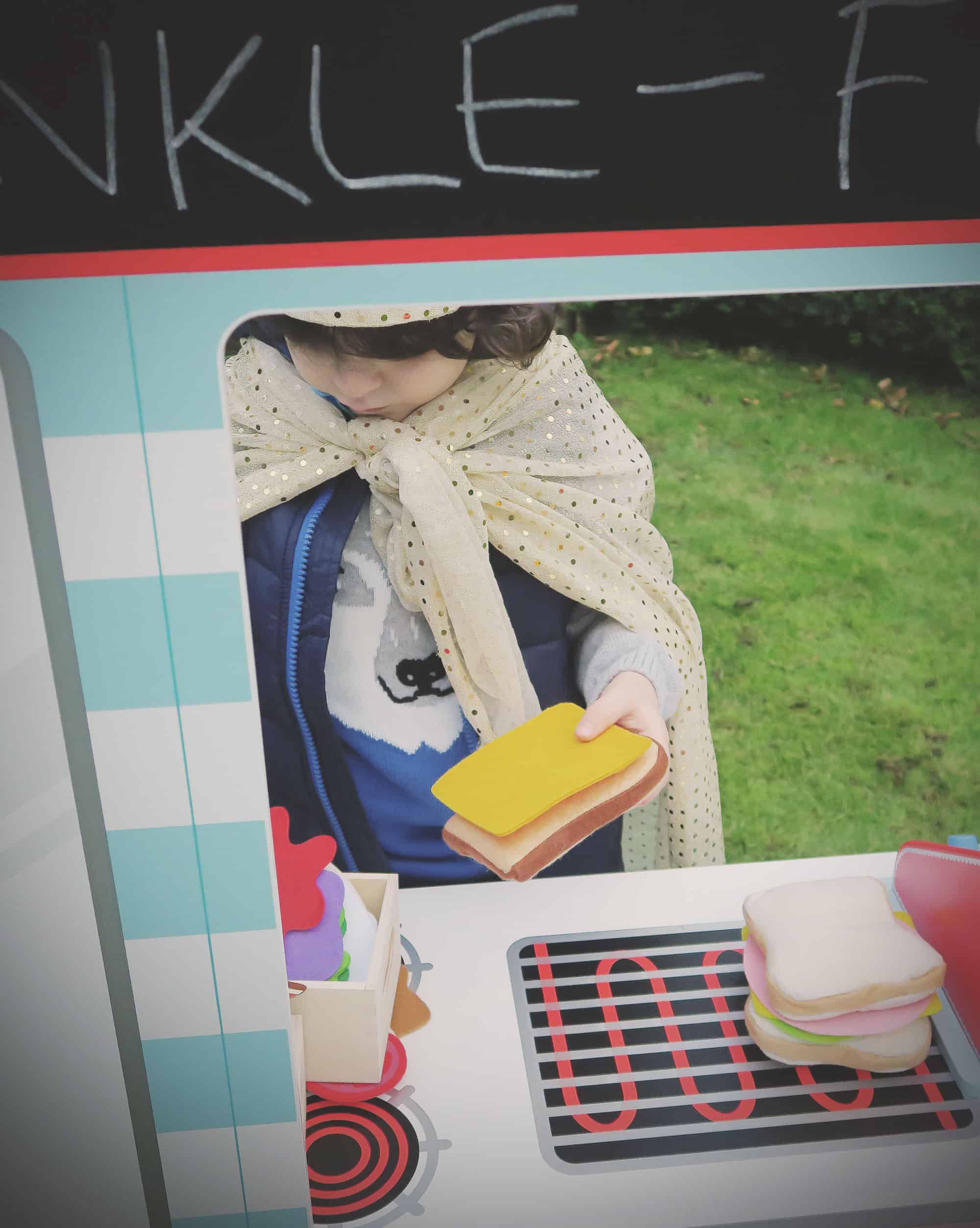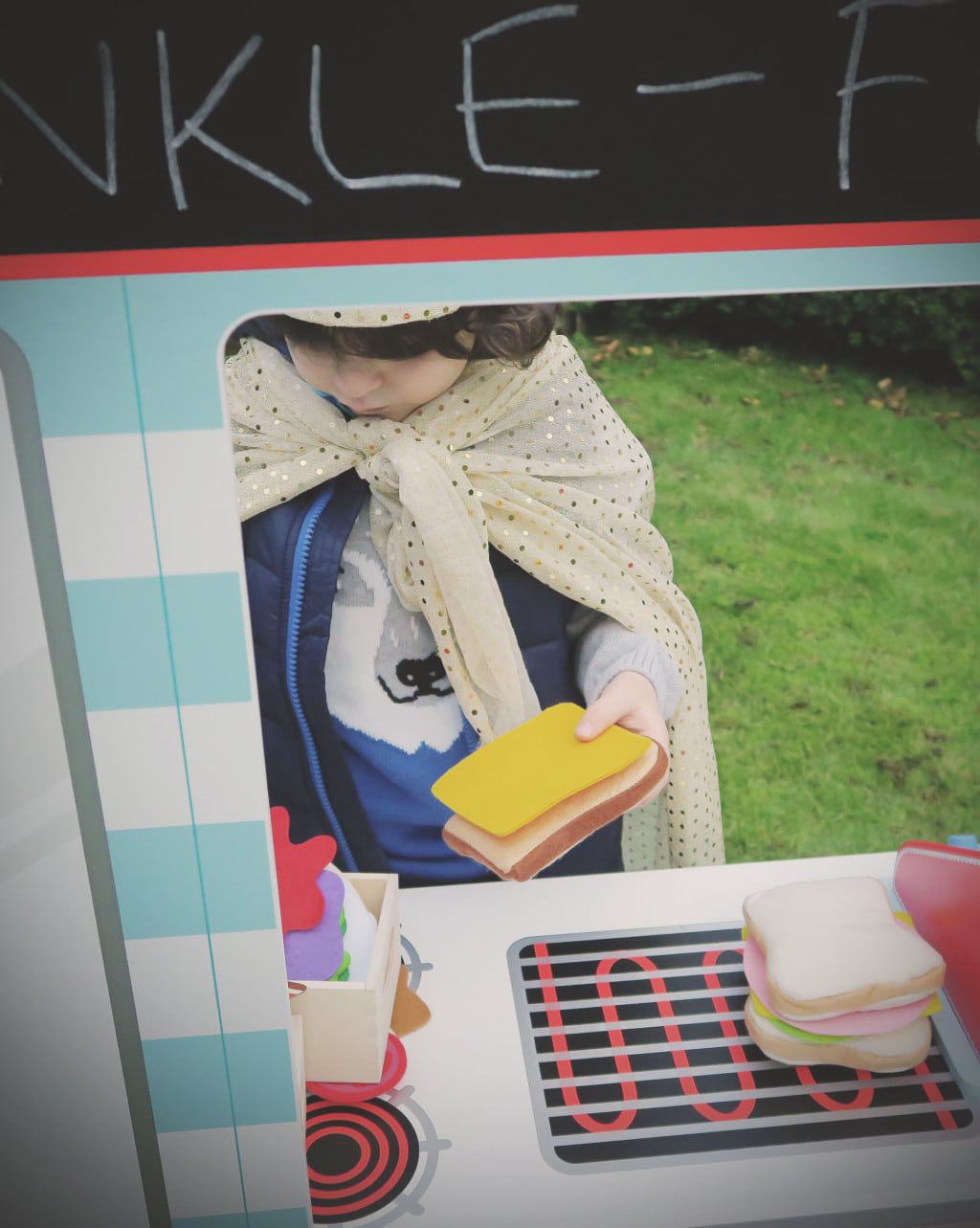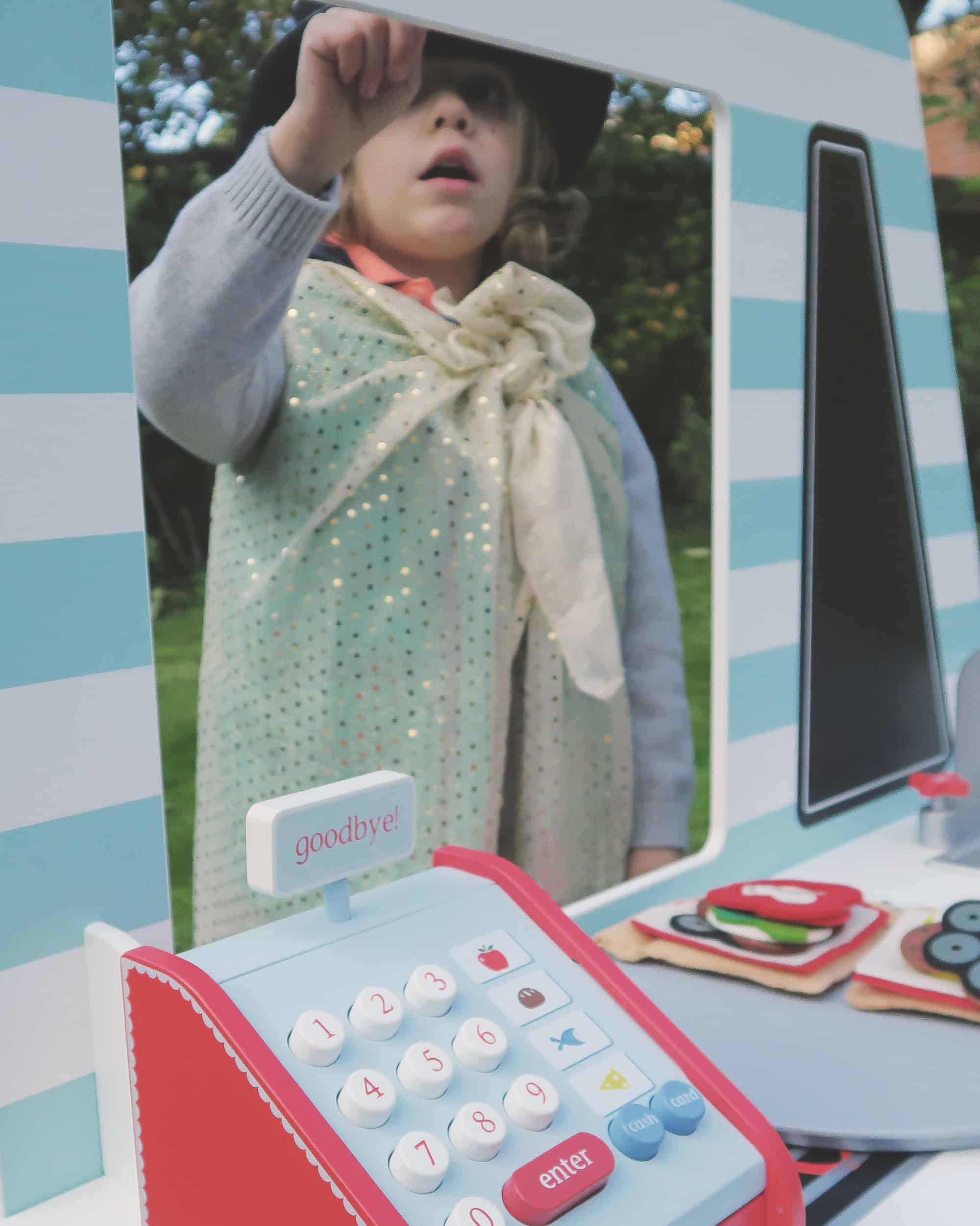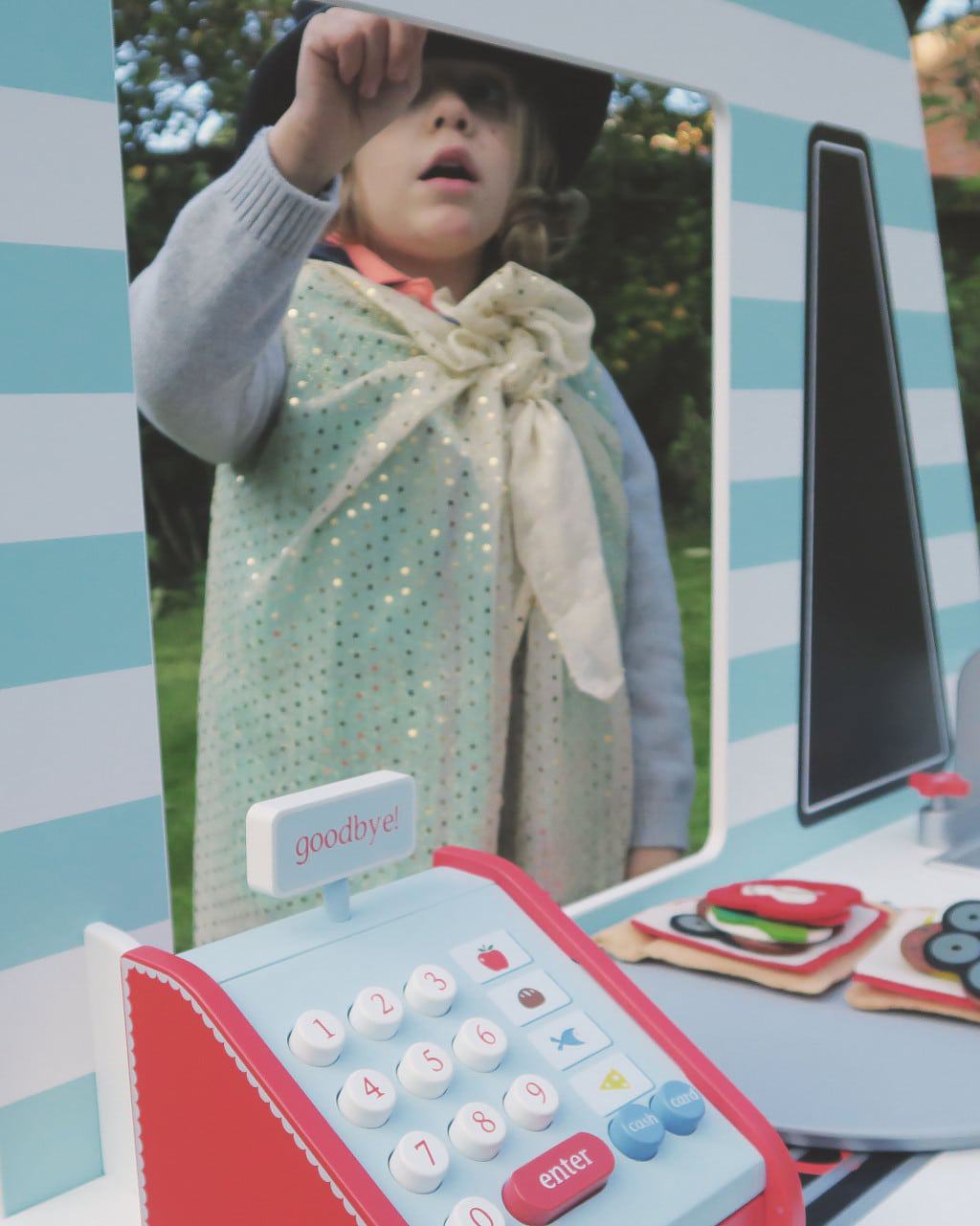 Turn it round and you'll find a sink and a cooker — plus a hob painted on to the top of the work-surface.
All very chunky and basic but perfect for little hands and BIG imaginations.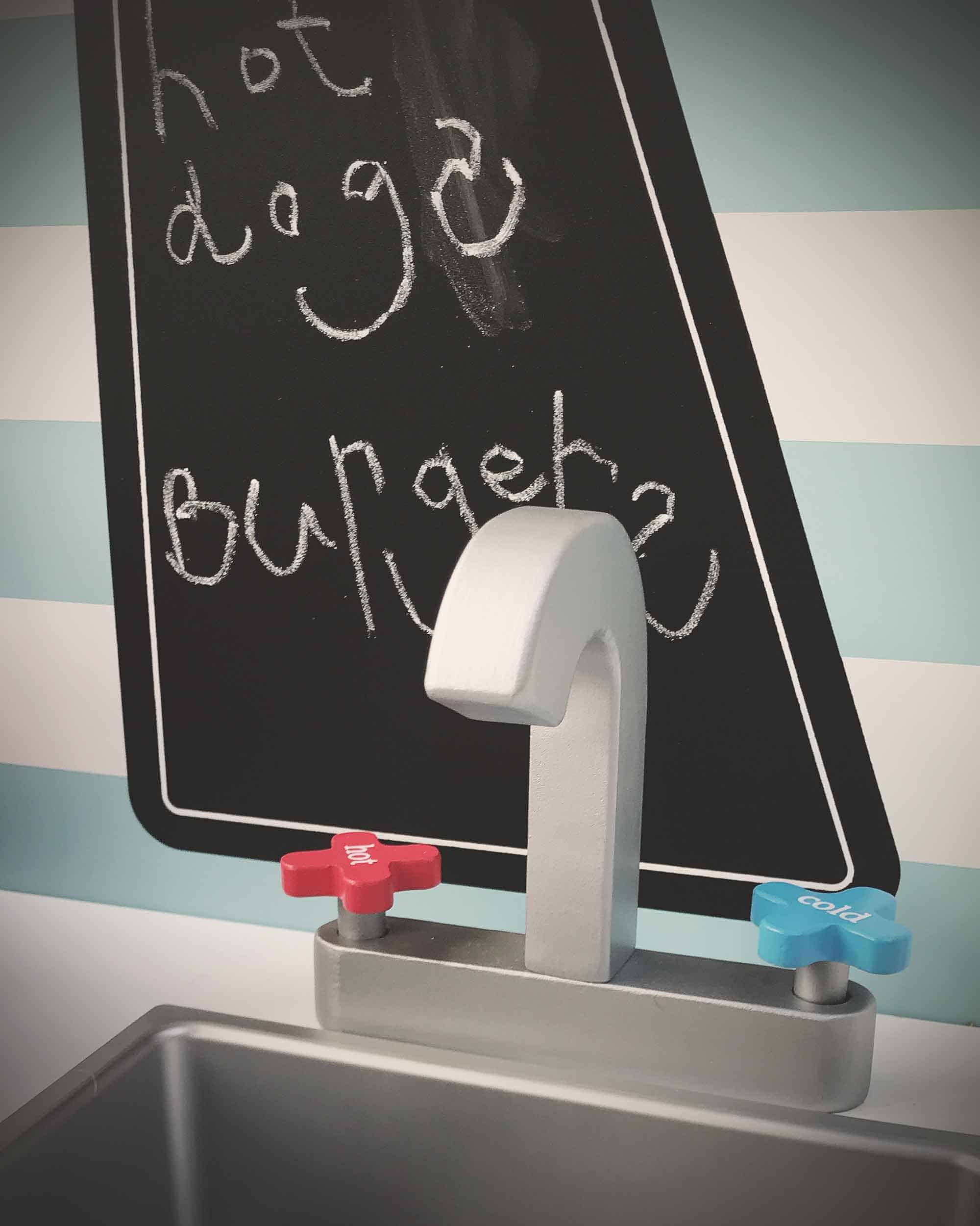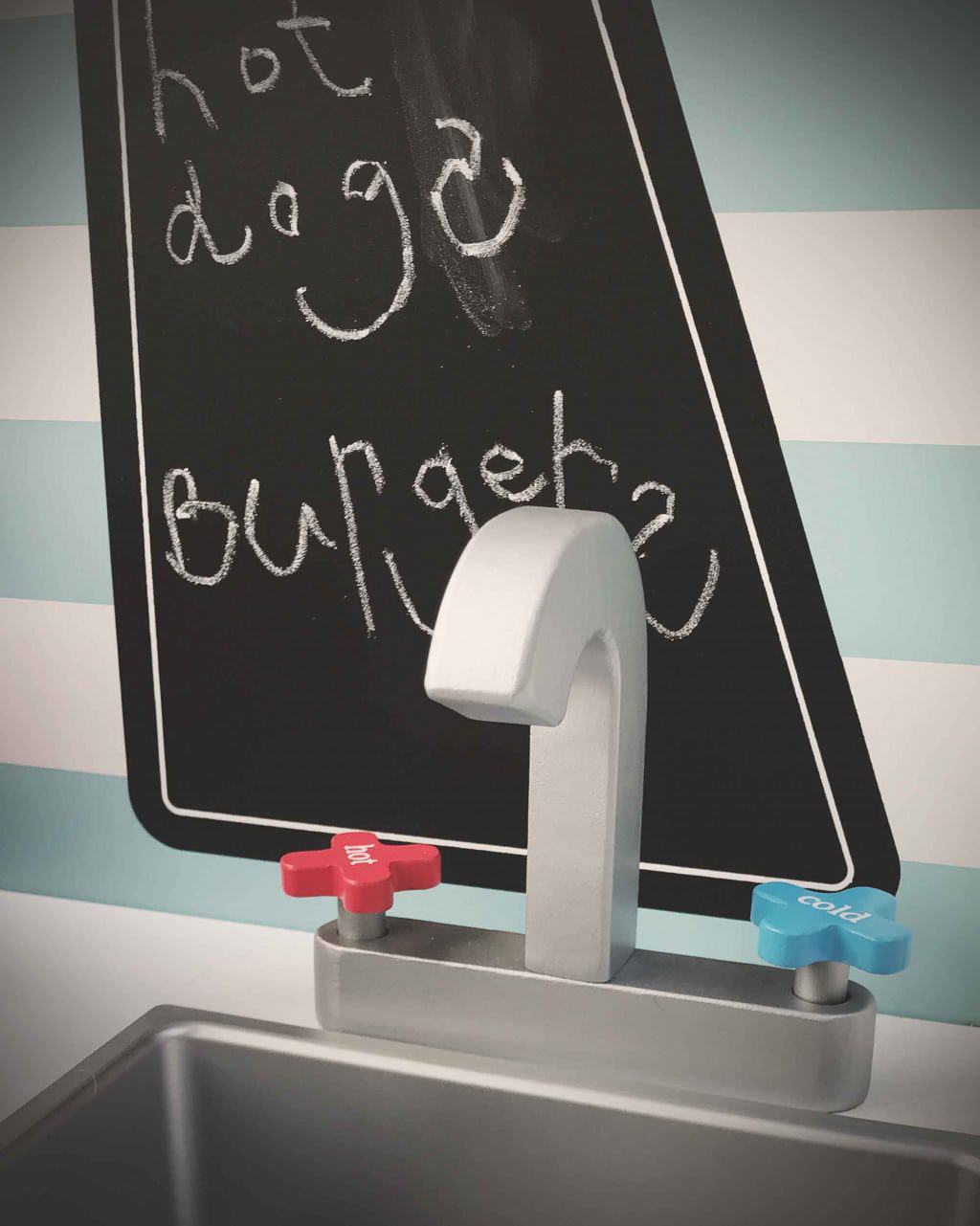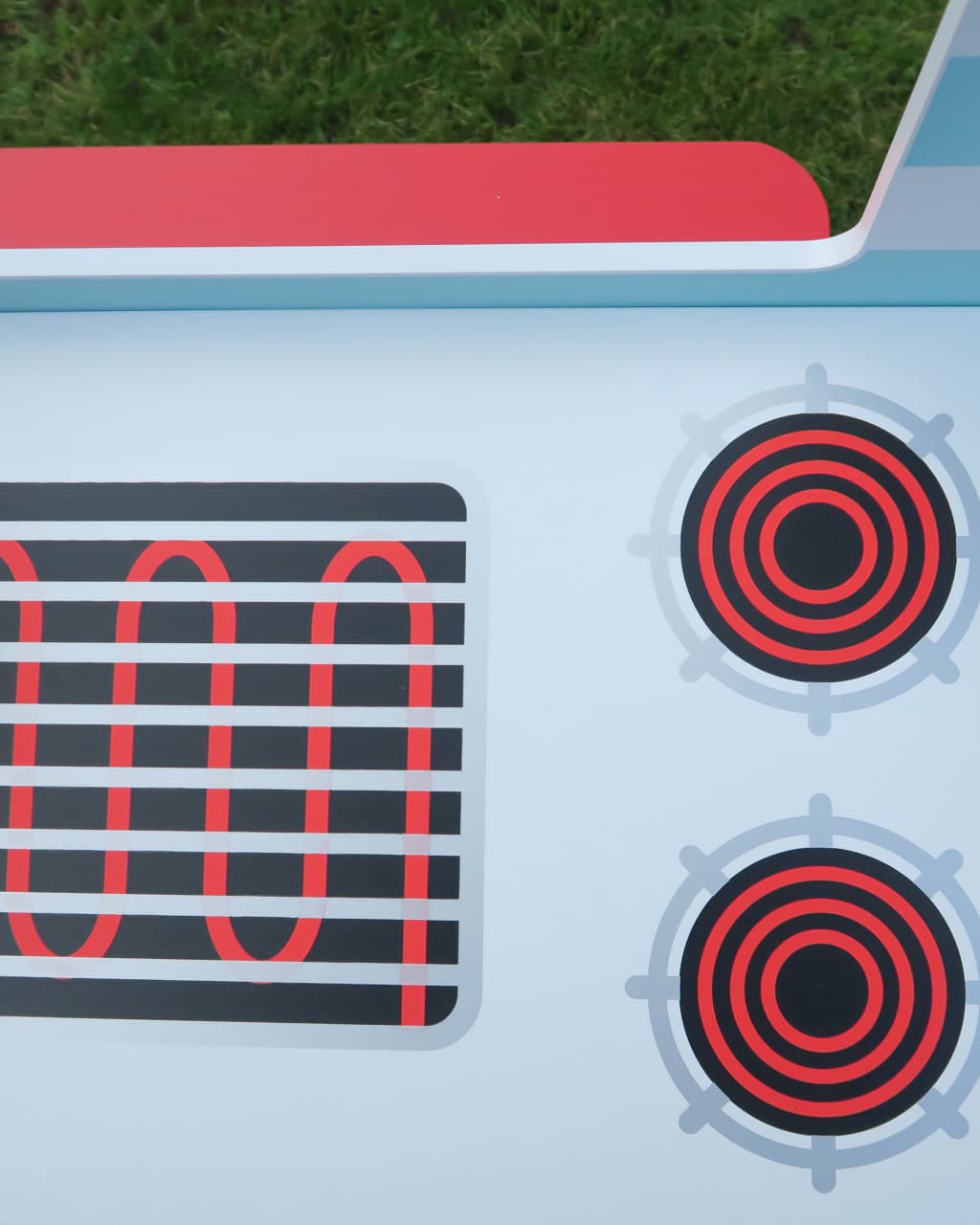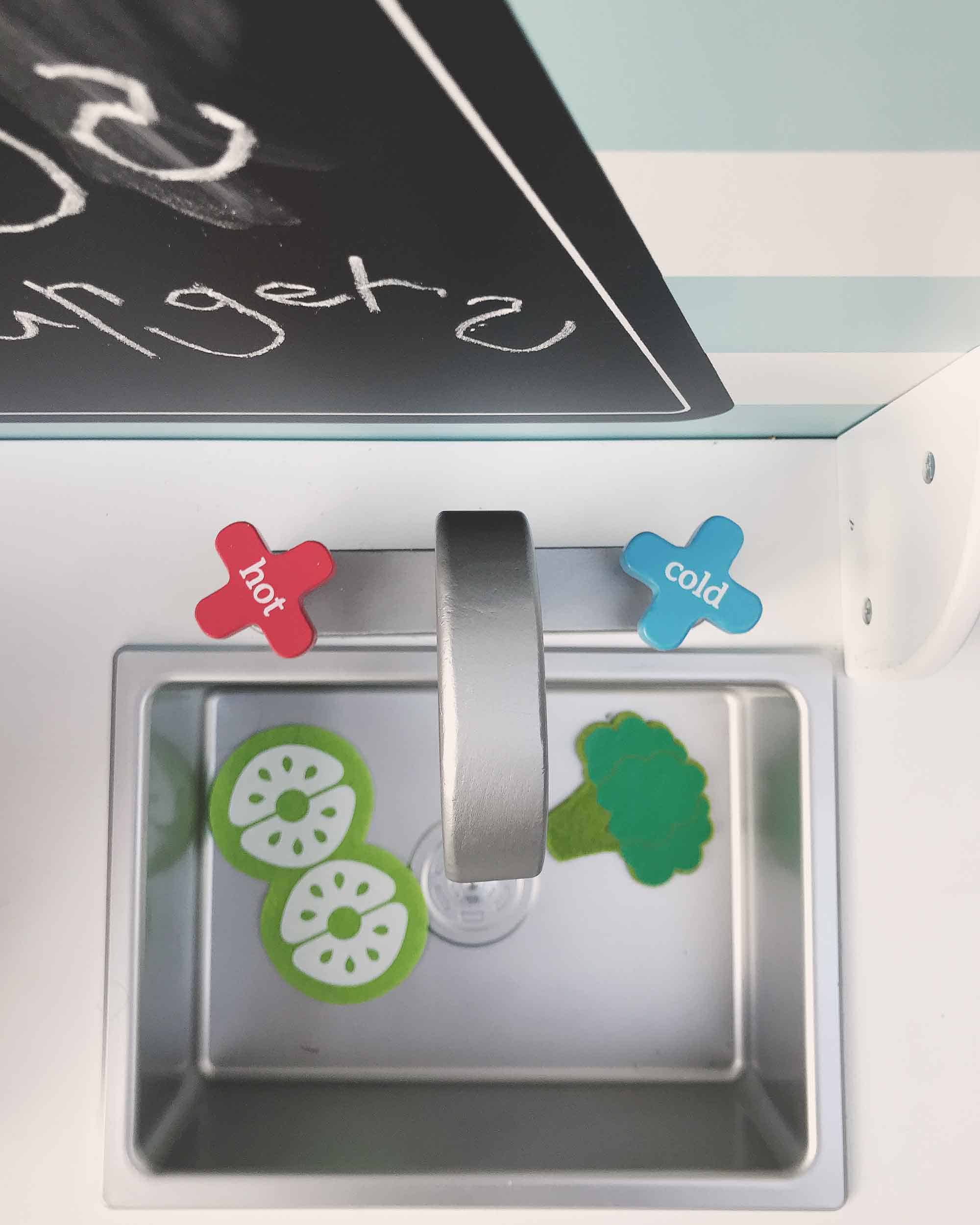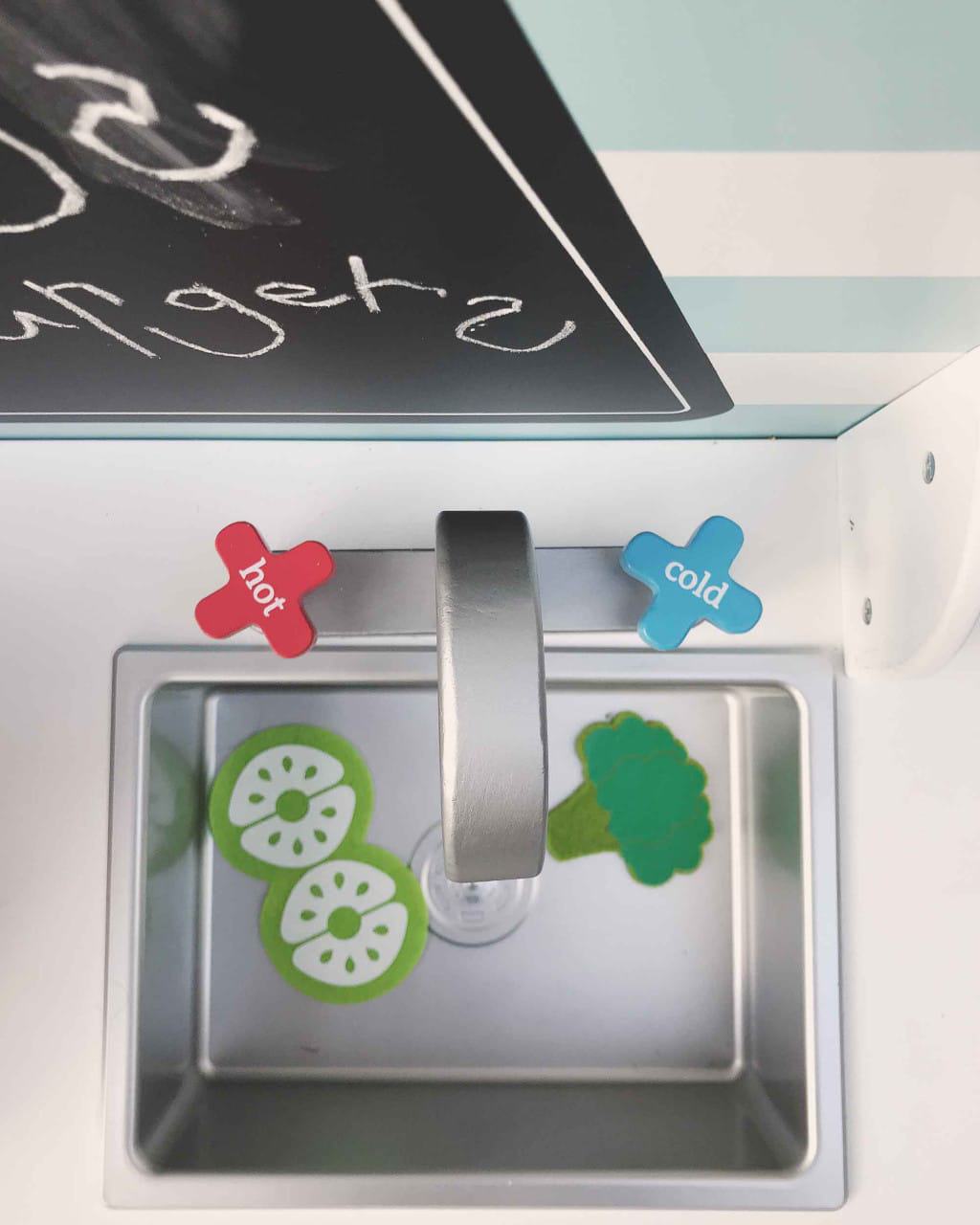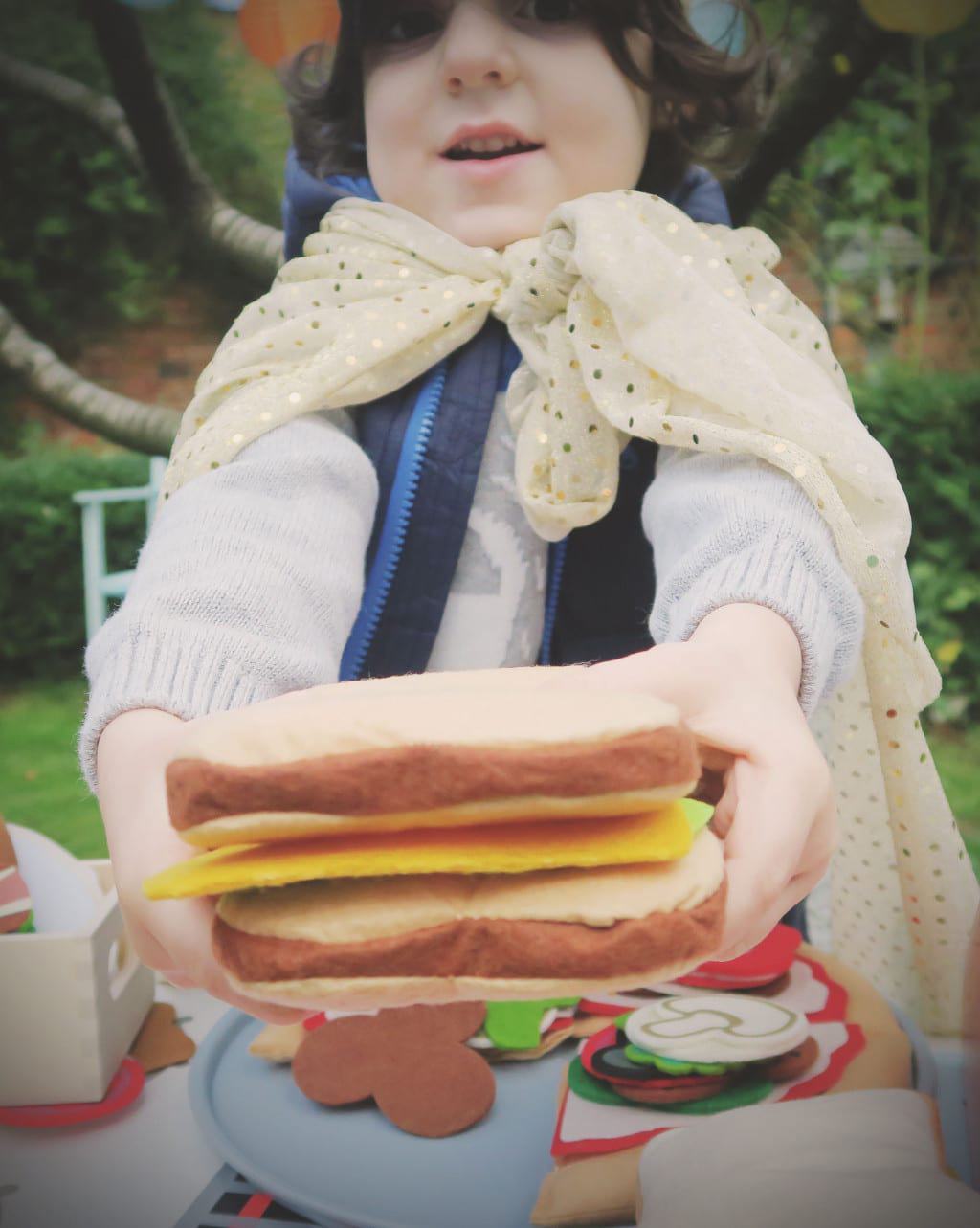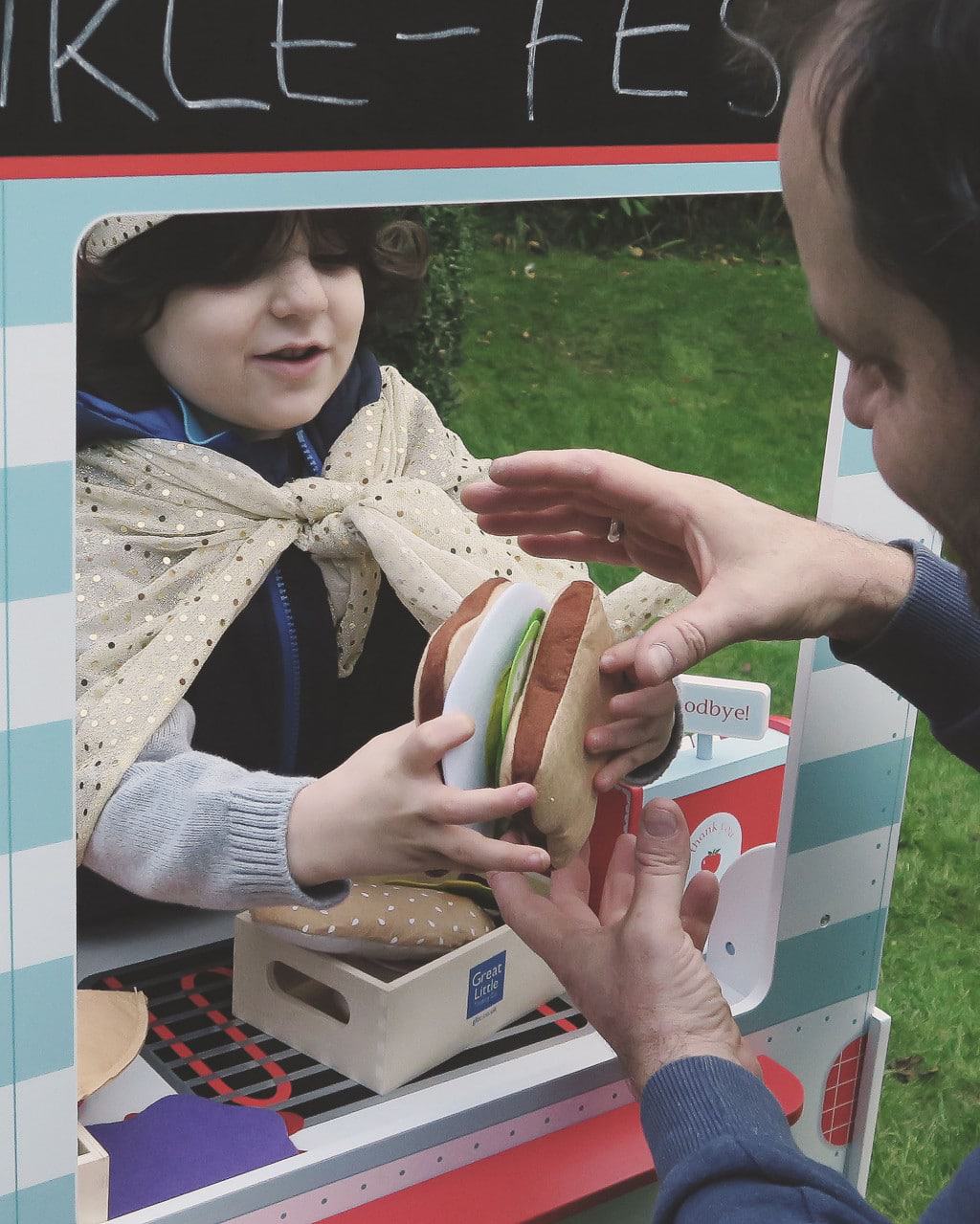 It's not perhaps as comprehensive as, say, the Sea Salt Play Kitchen; with it's spangly washing machine and 3D hob.
But for two little boys who like to play shops, festivals, restaurants and AA man rescue —
(yes — that really IS a game)
— it's brilliant.
And if you pair it with some of the Great Little Trading Company's other fab items — felt food and a little wooden till (for example) — it will be something that gives not just hours, but years of enjoyment.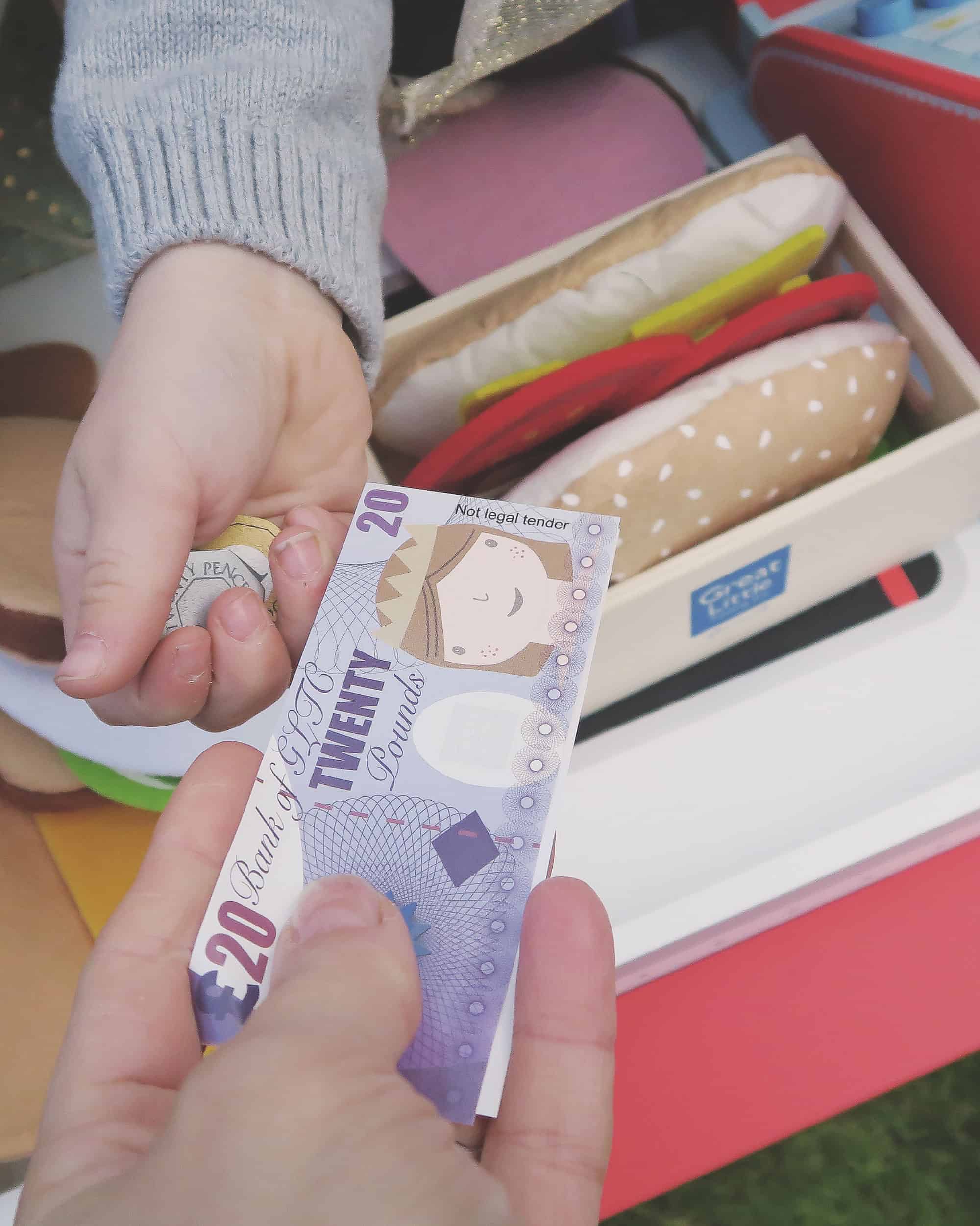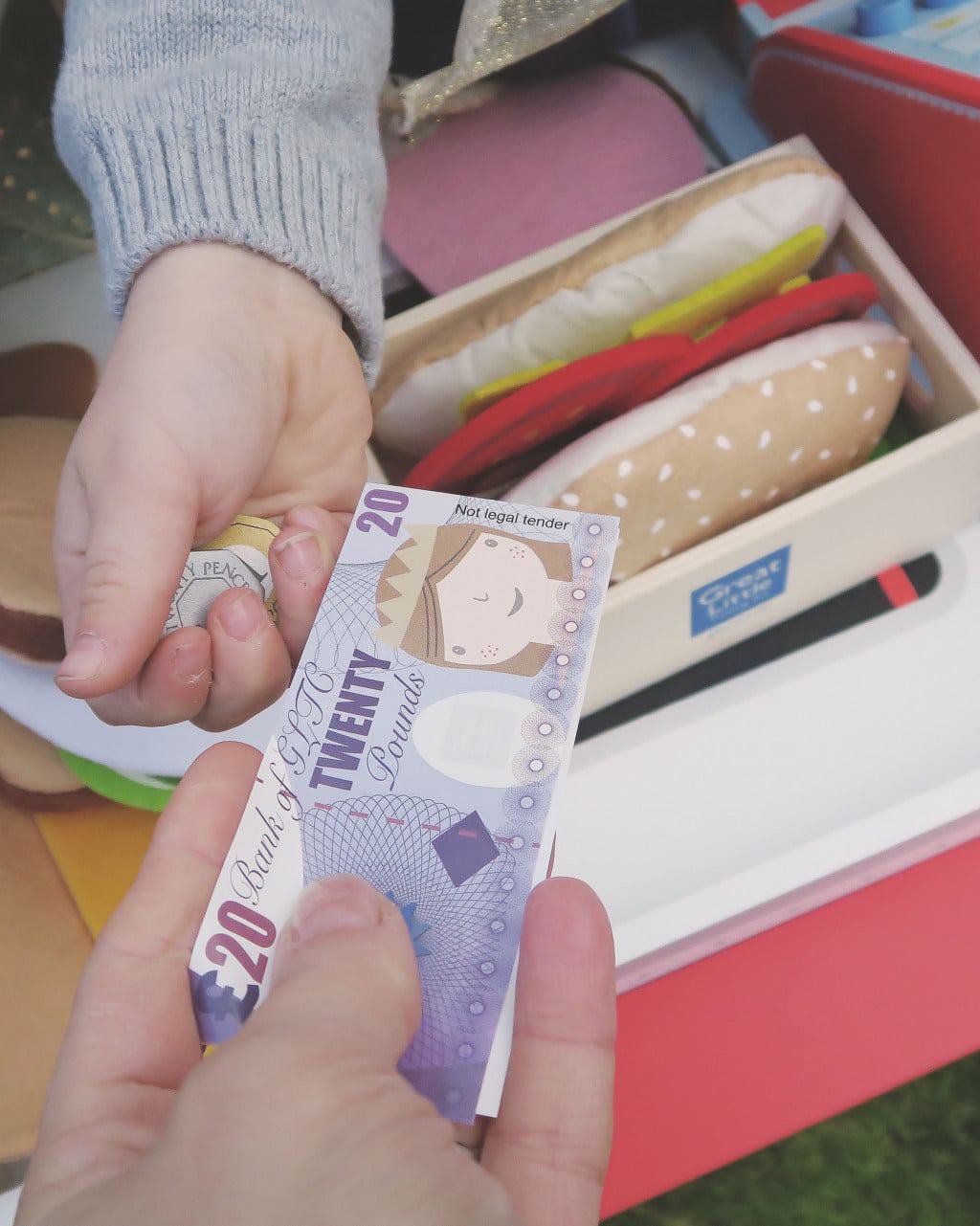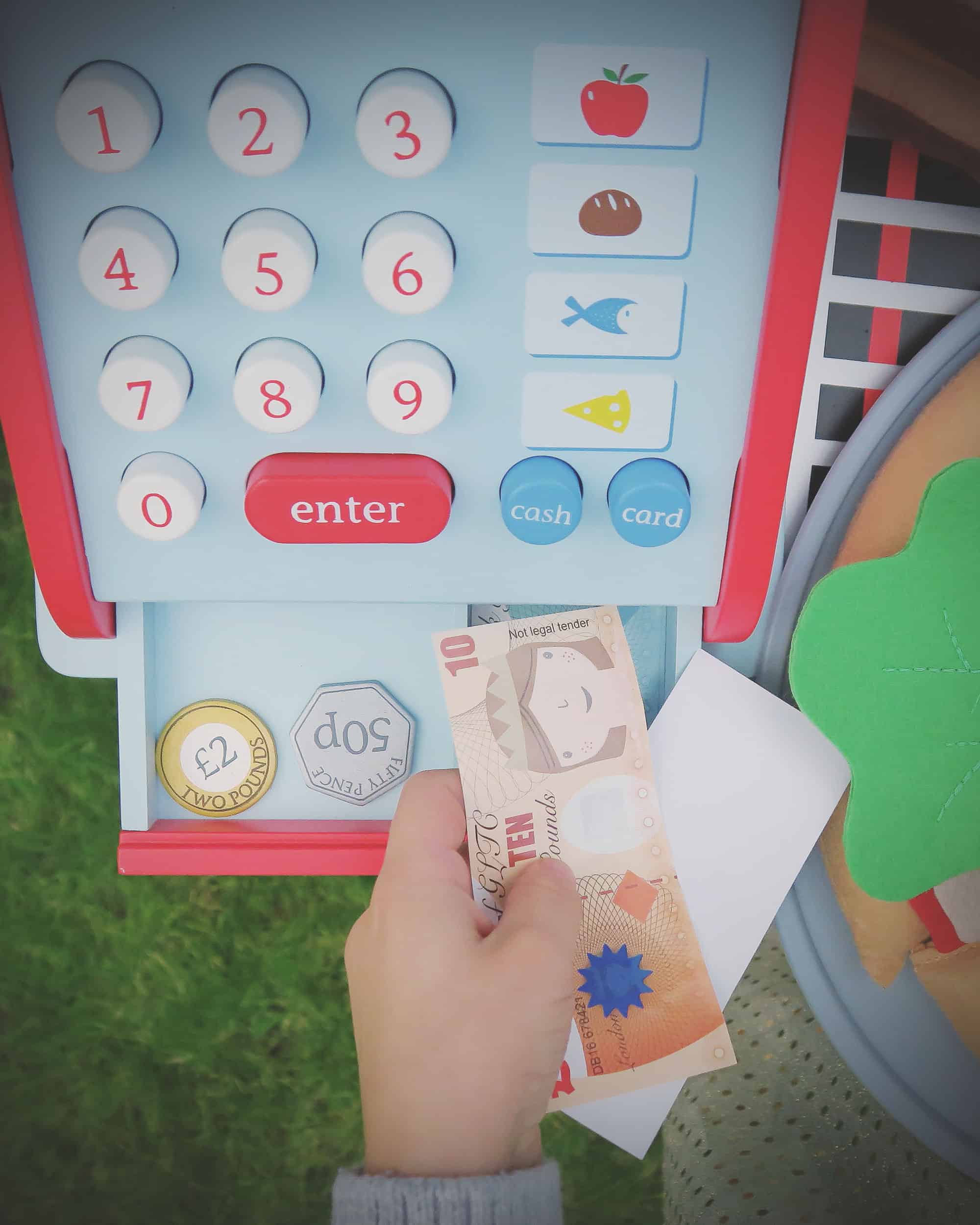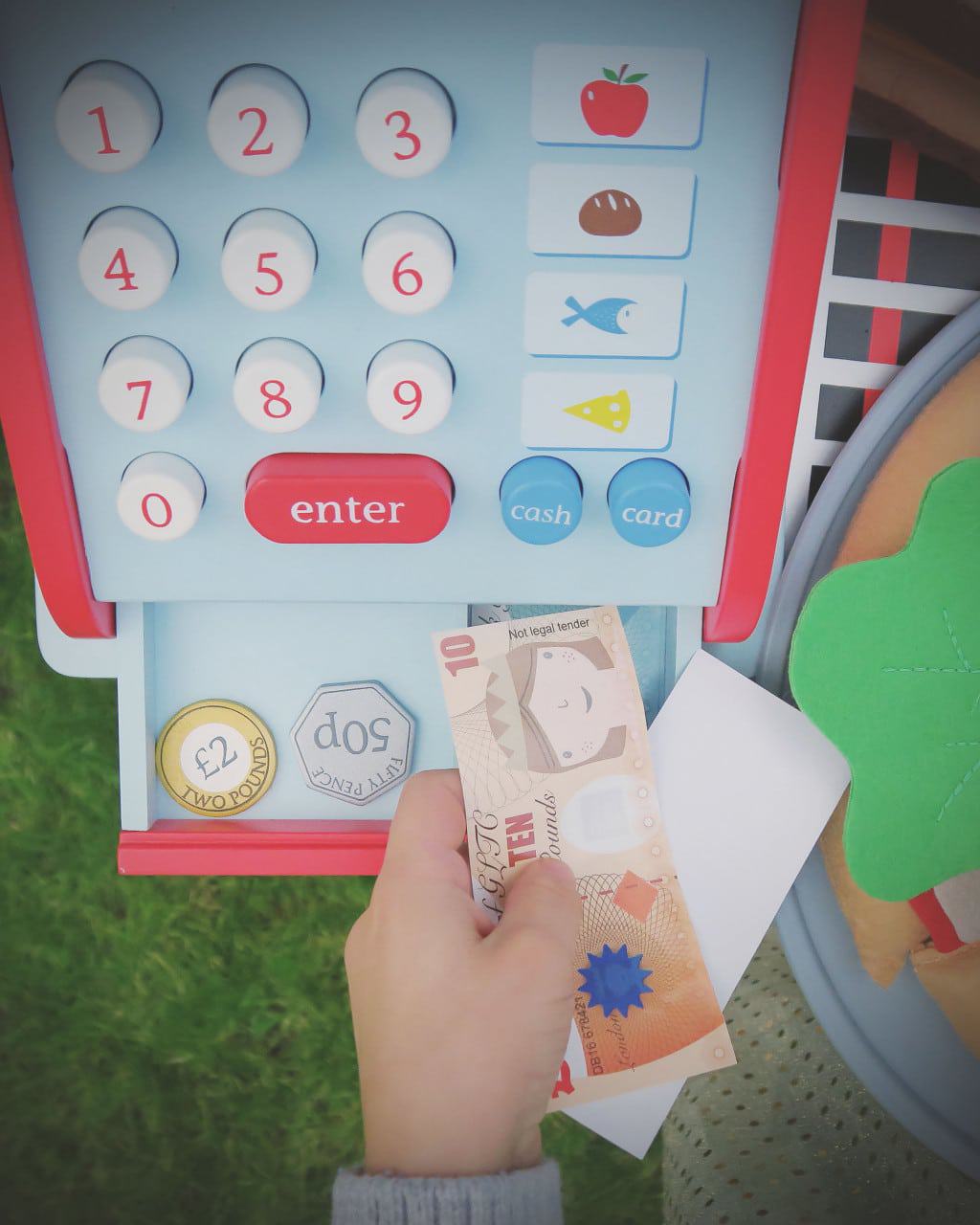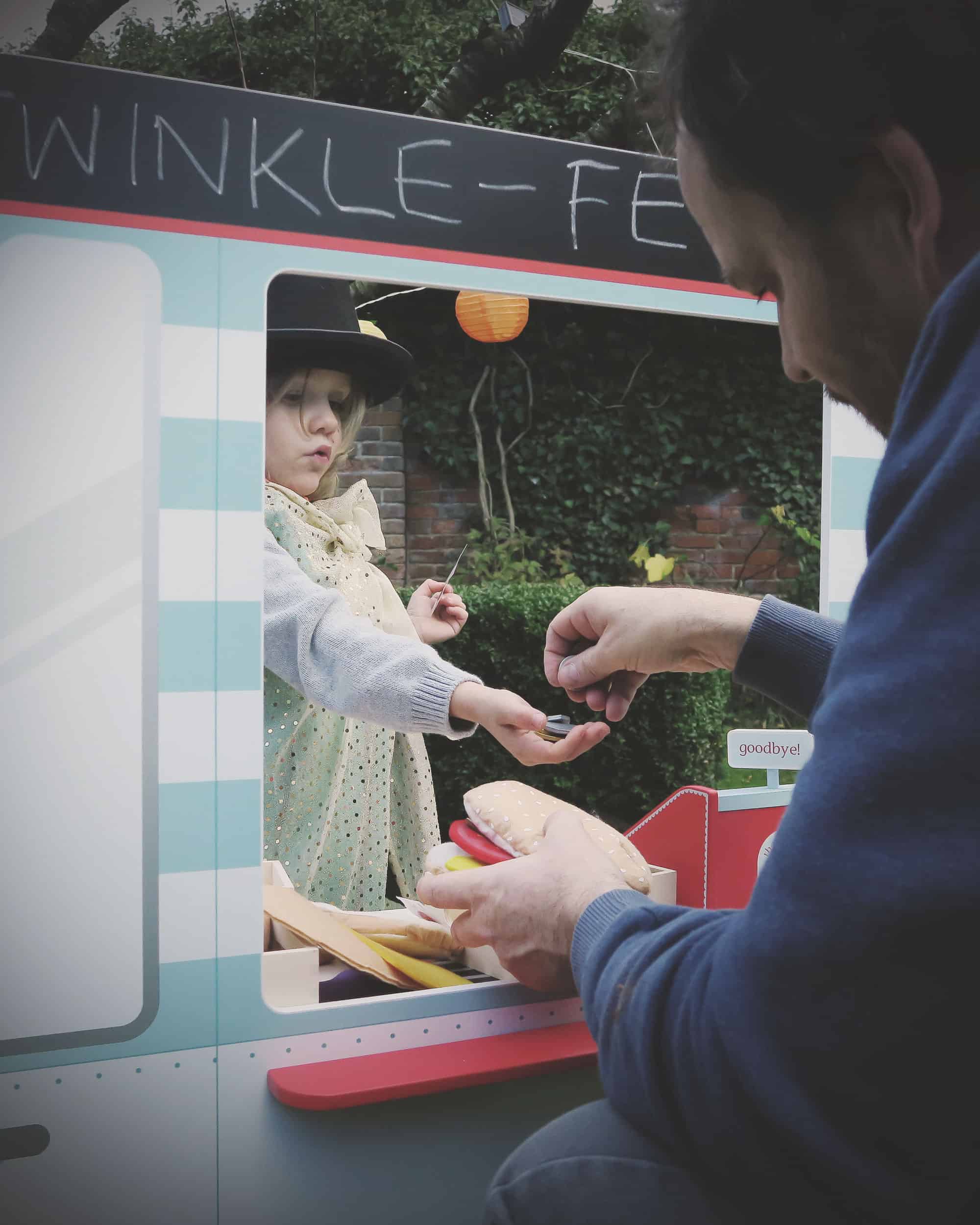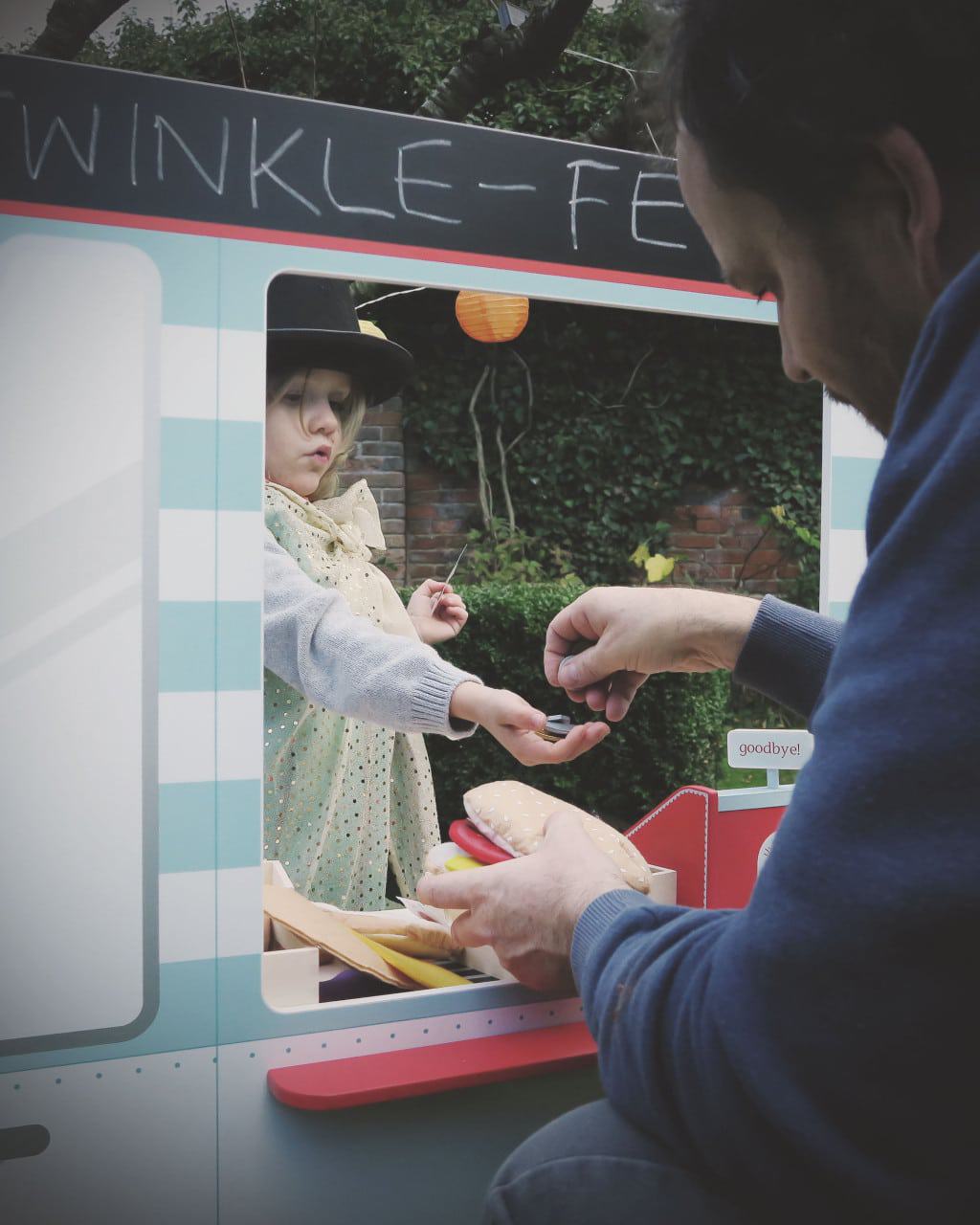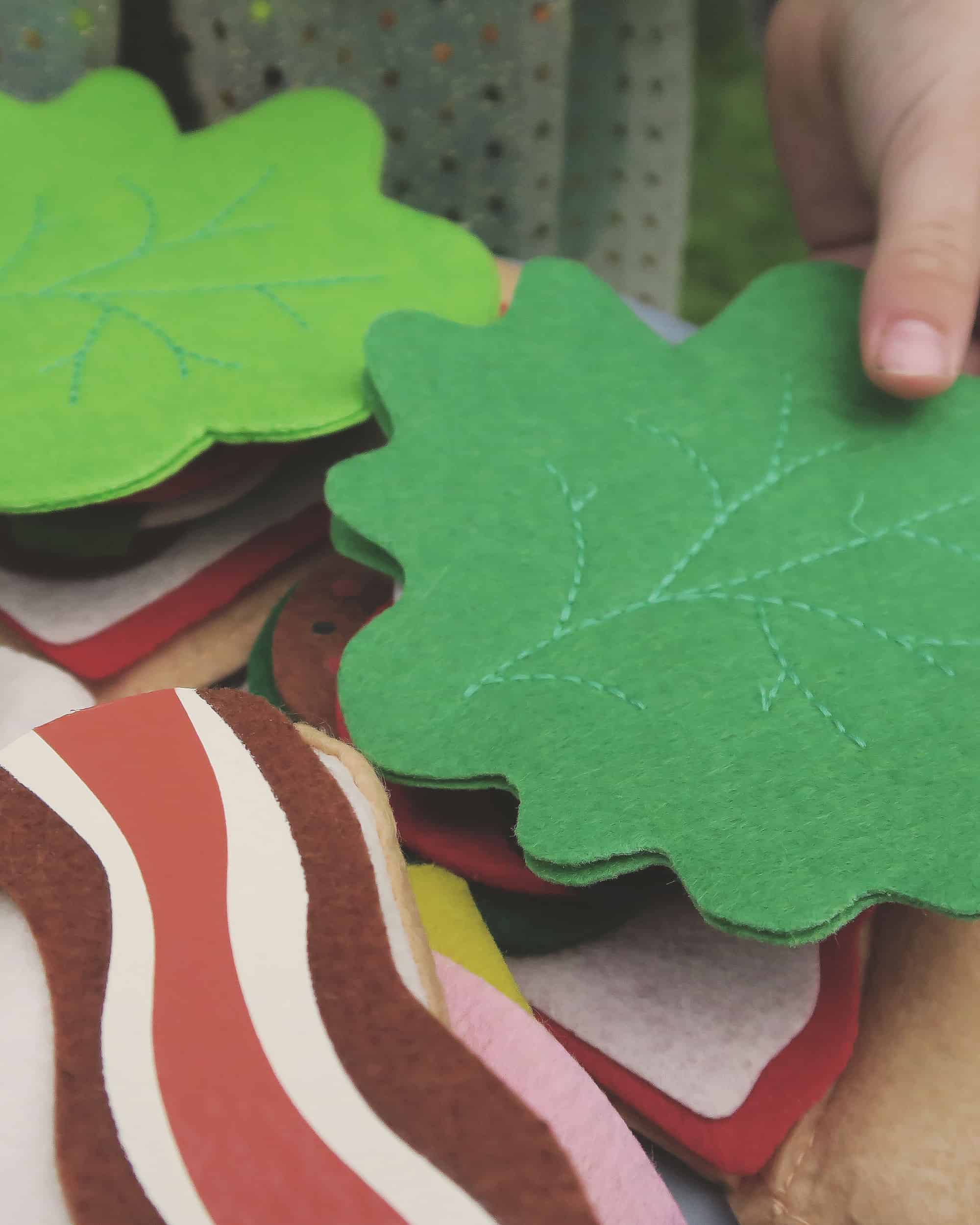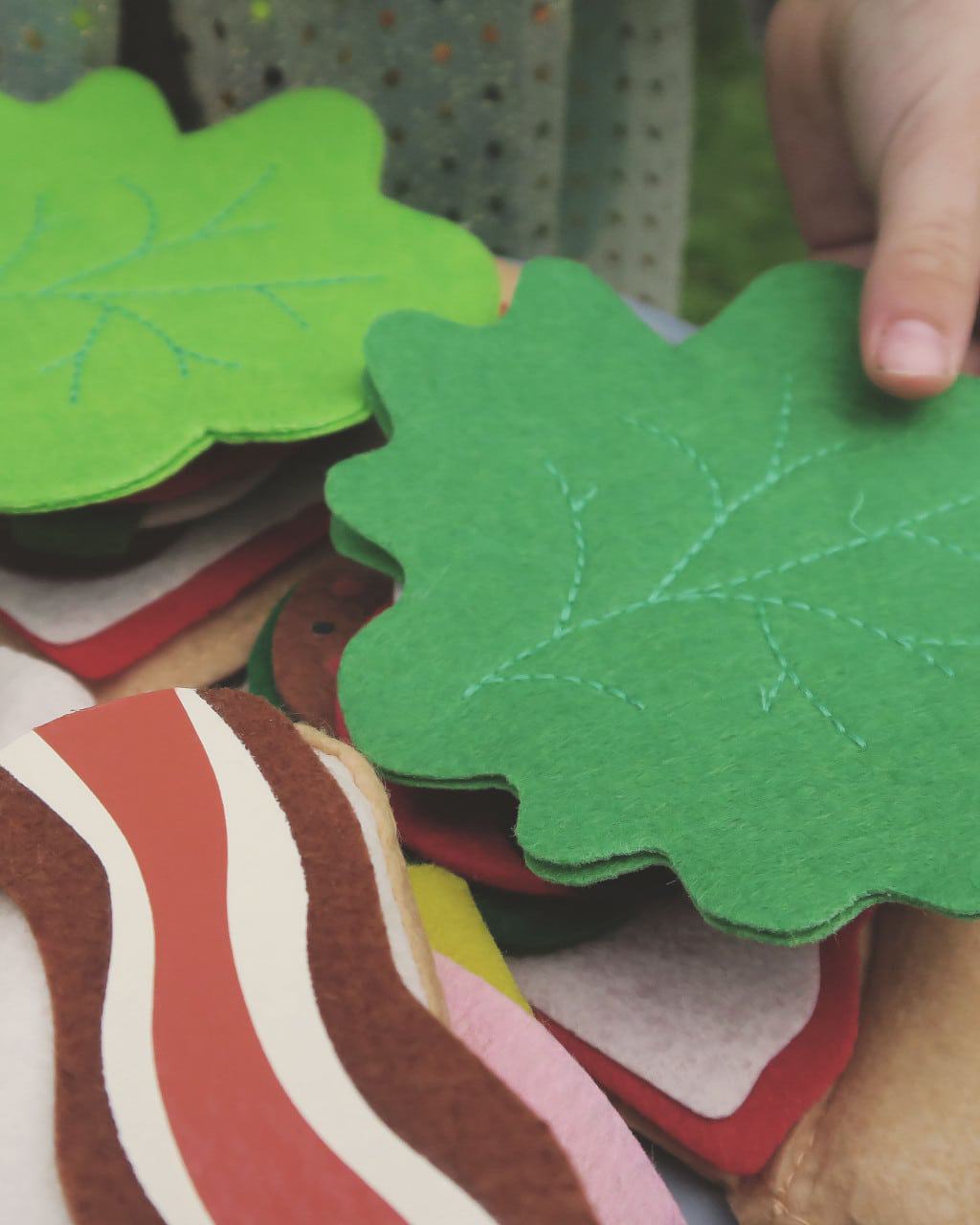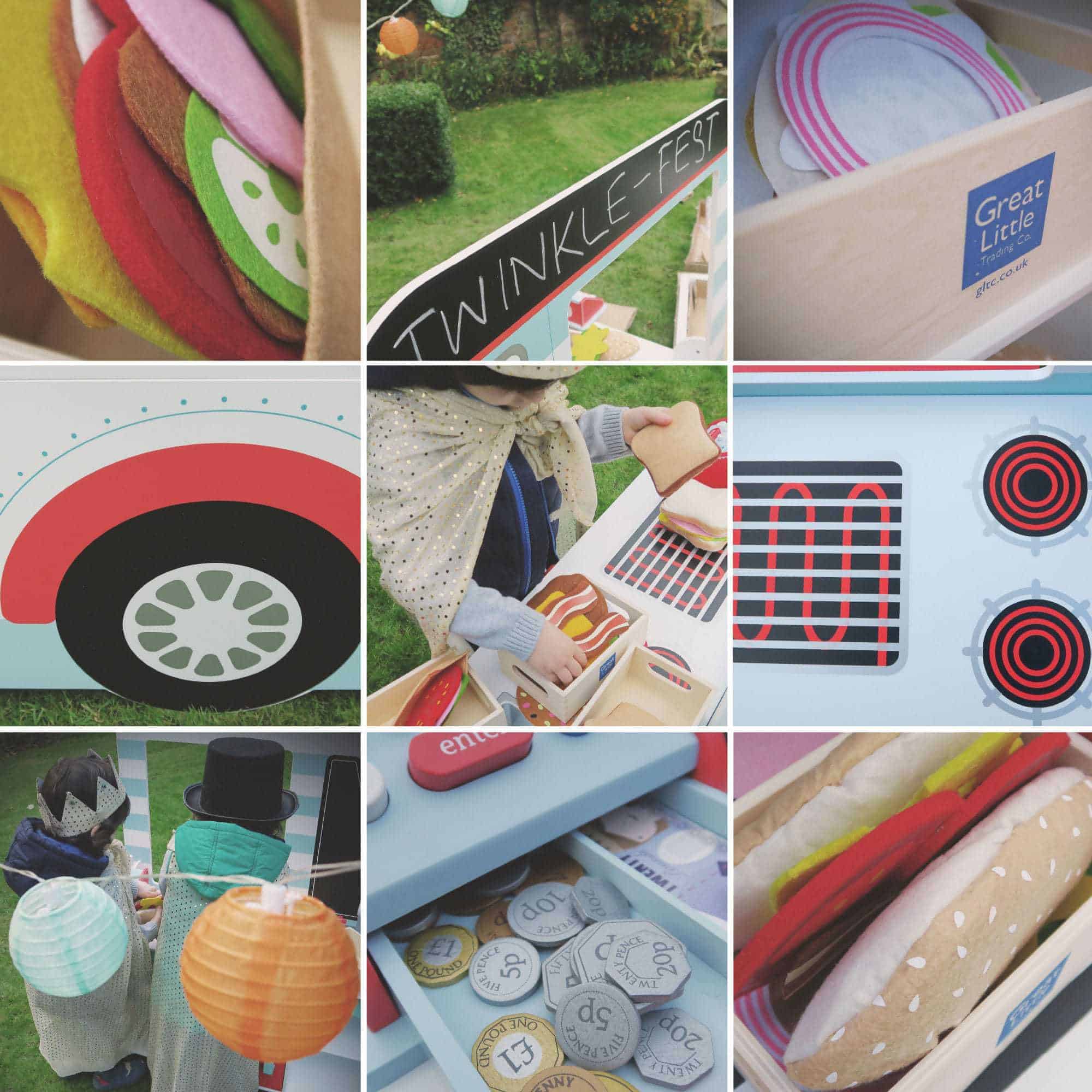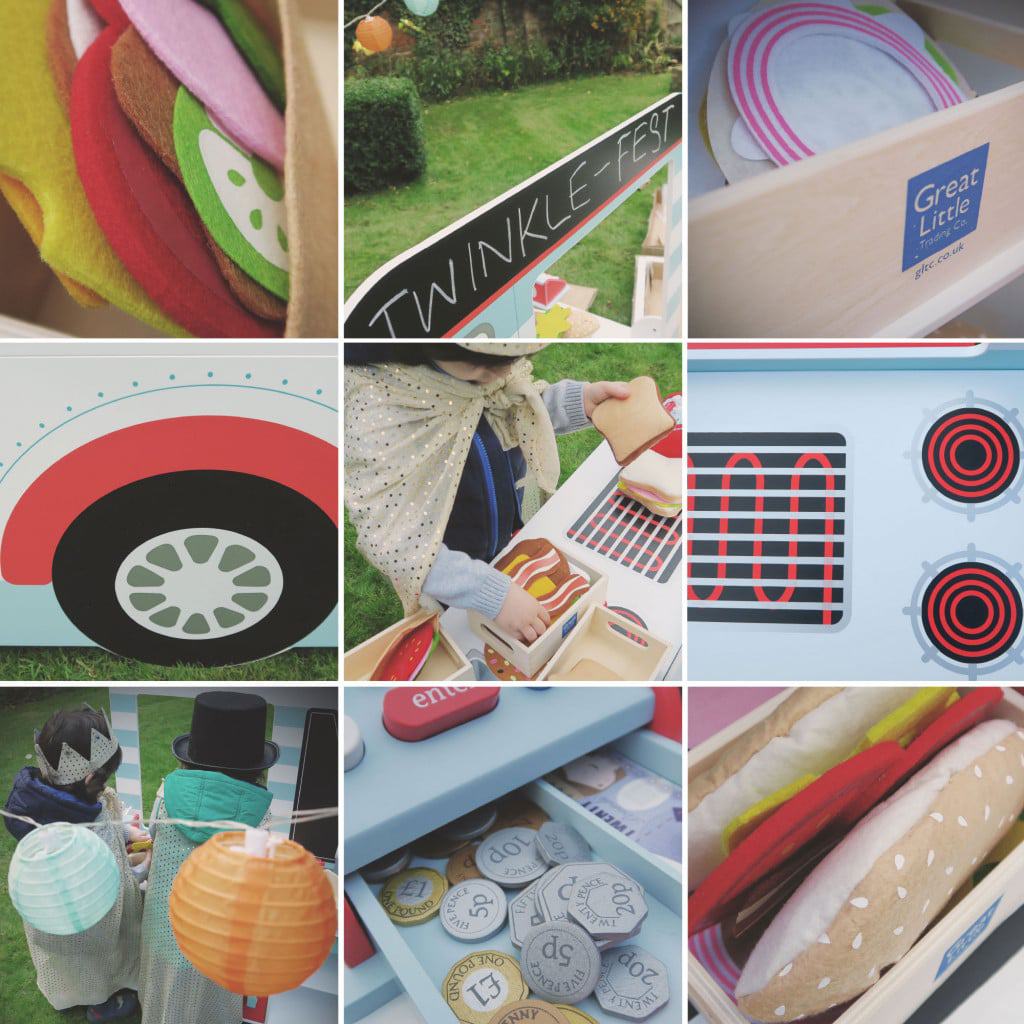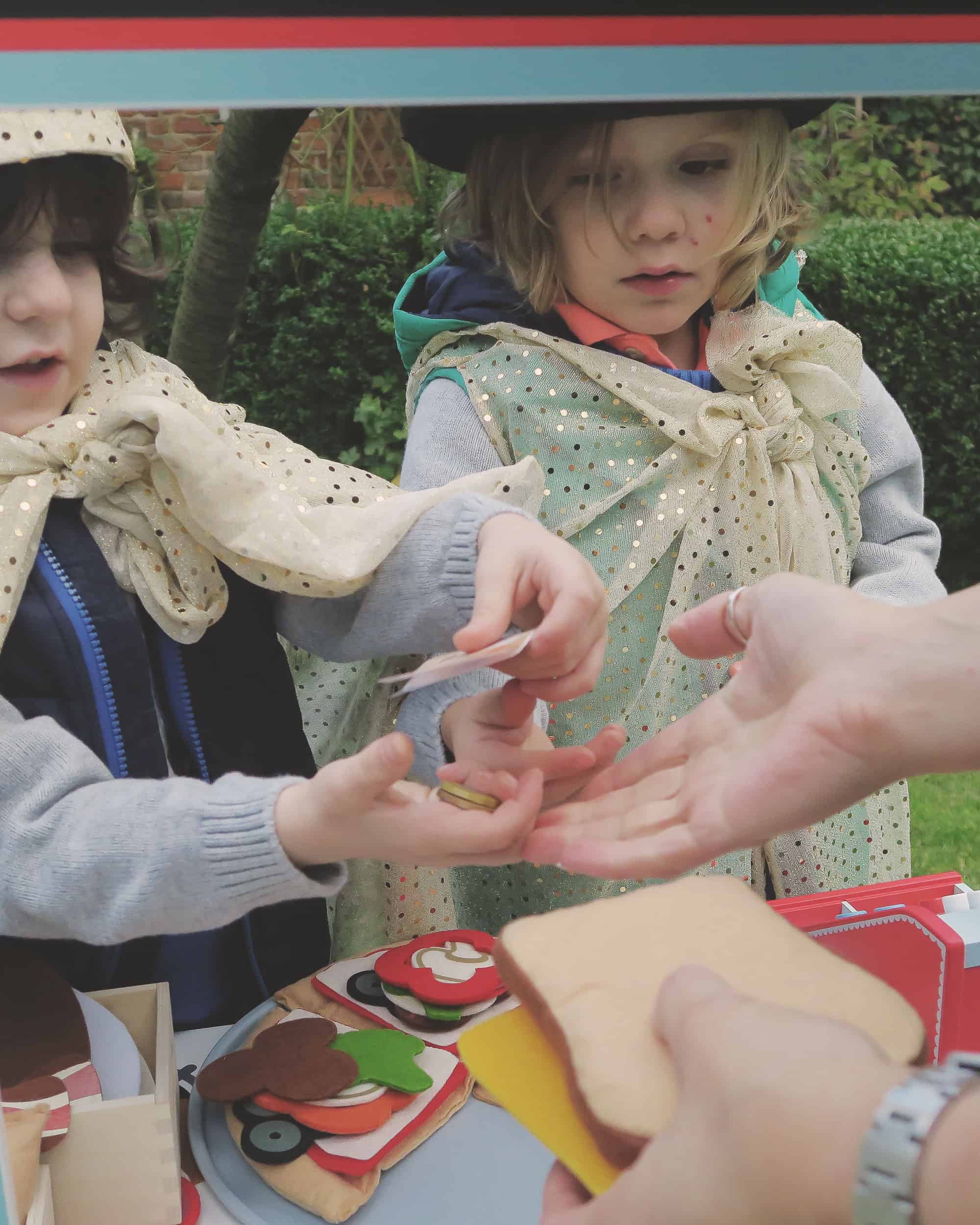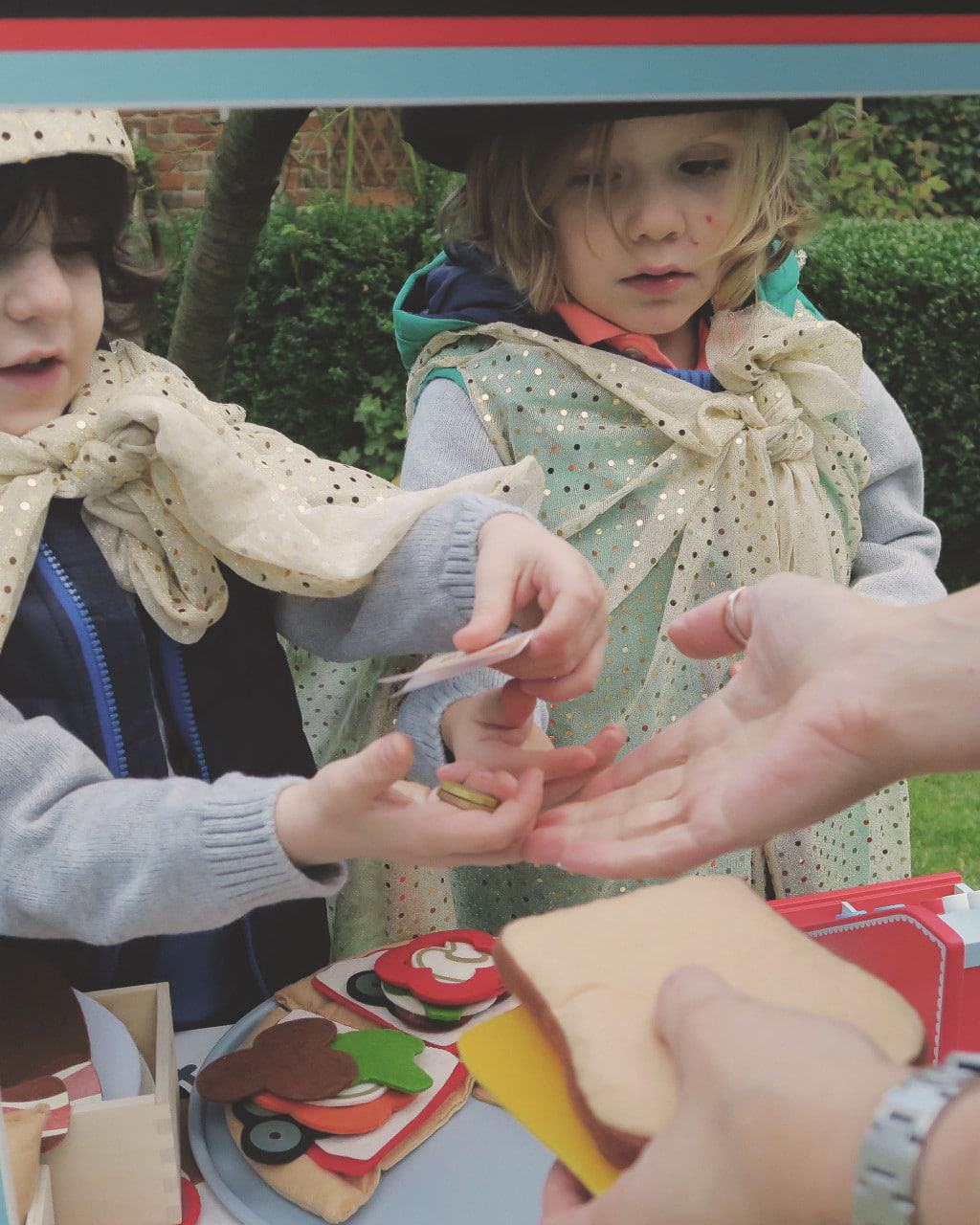 Festival Fun in a Play Kitchen
The boys are such little festival veterans.
Our excursion to this year's Just So festival marked their 10th four dayer and we've been asked once again to write for Camp Bestival next year.
So having something that brings back such happy and familiar memories for them is fantastic. Especially now that festival season is over.
They've dressed up in their festival finest on many a weekend, since we were given the Festival Food Van to try out.
And their daddy and I have been treated to lunch on many occasions too. Felt pizza — with broccoli and olives — is a speciality of the boys' festival play kitchen.
As are felt sandwiches with some quite random fillings.
I love the fact that this little MDF van is not only a vehicle for imaginative play — and has provided the boys with endless hours of entertainment — but another bonus is that it houses 6 little shelves. So when they've finished playing, all of the play-food can be neatly packed away.
You can even get mini shop crates from GLTC to store everything in.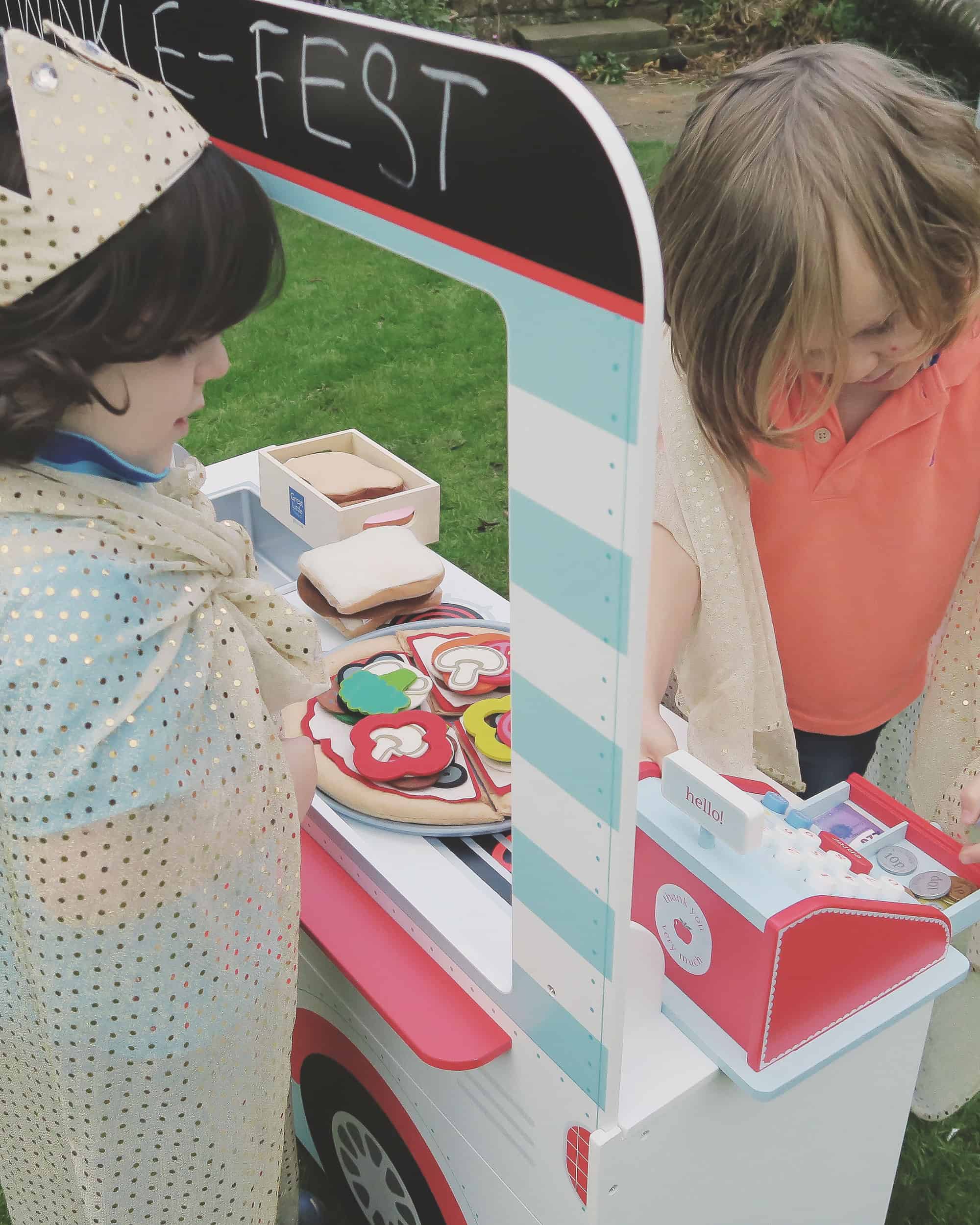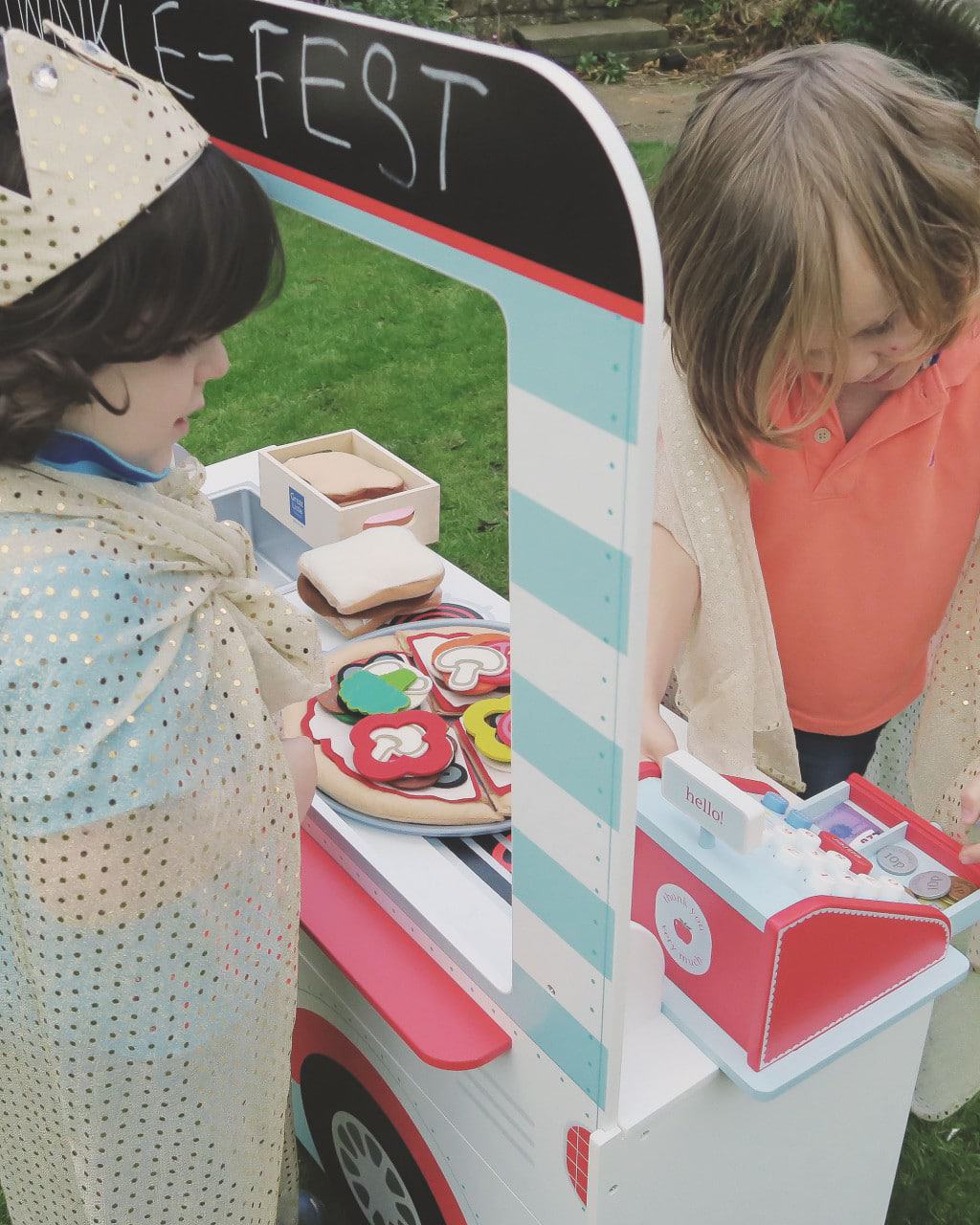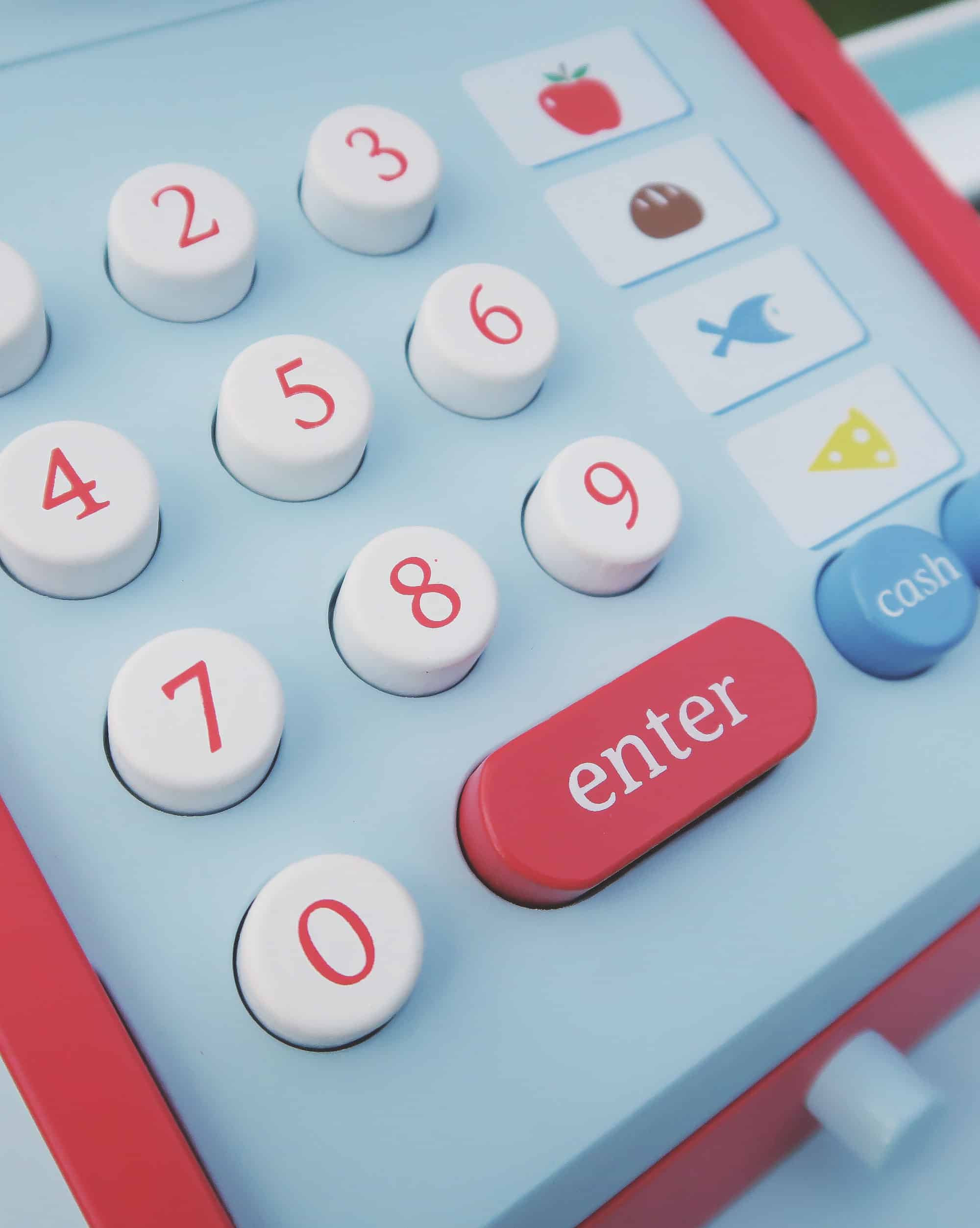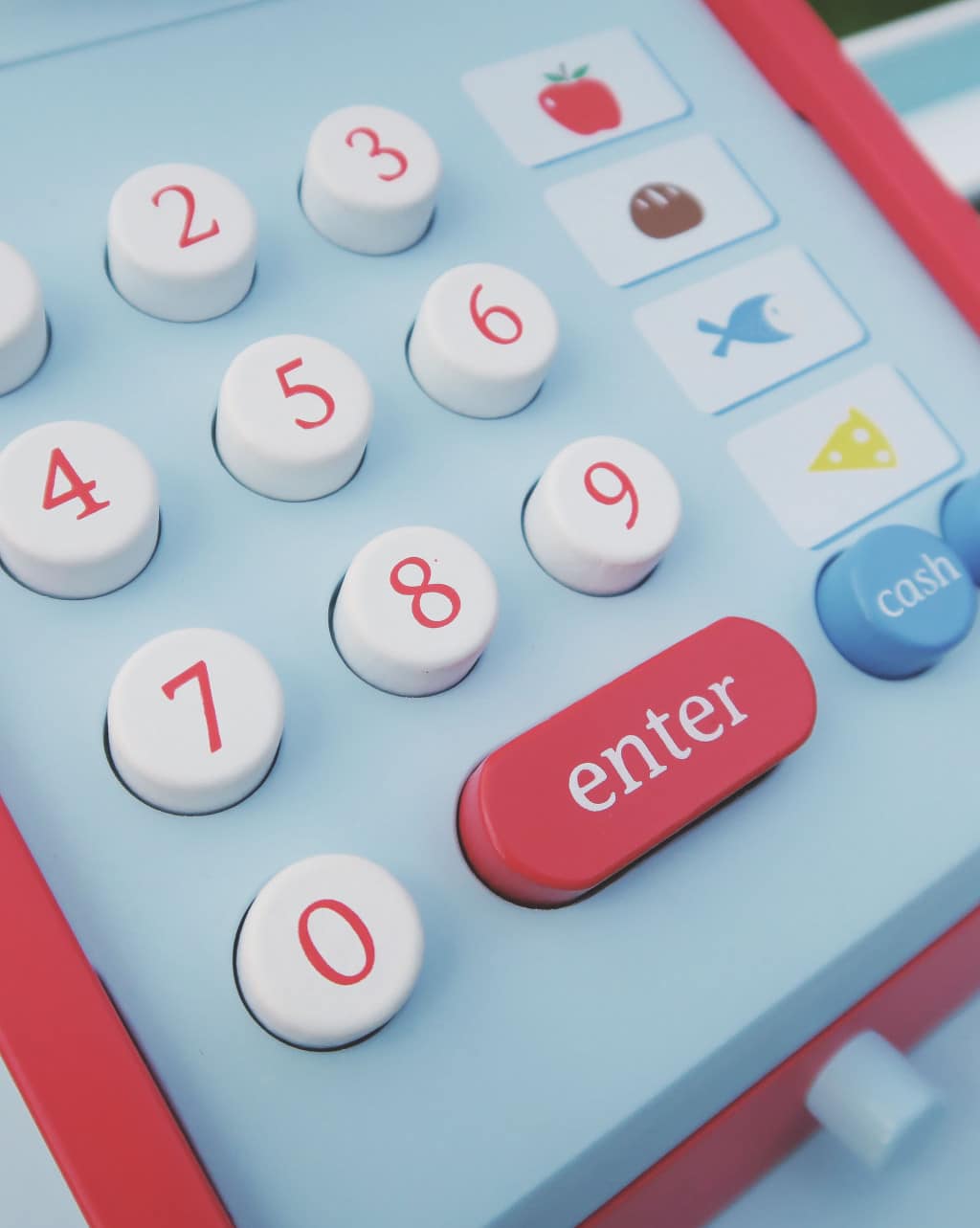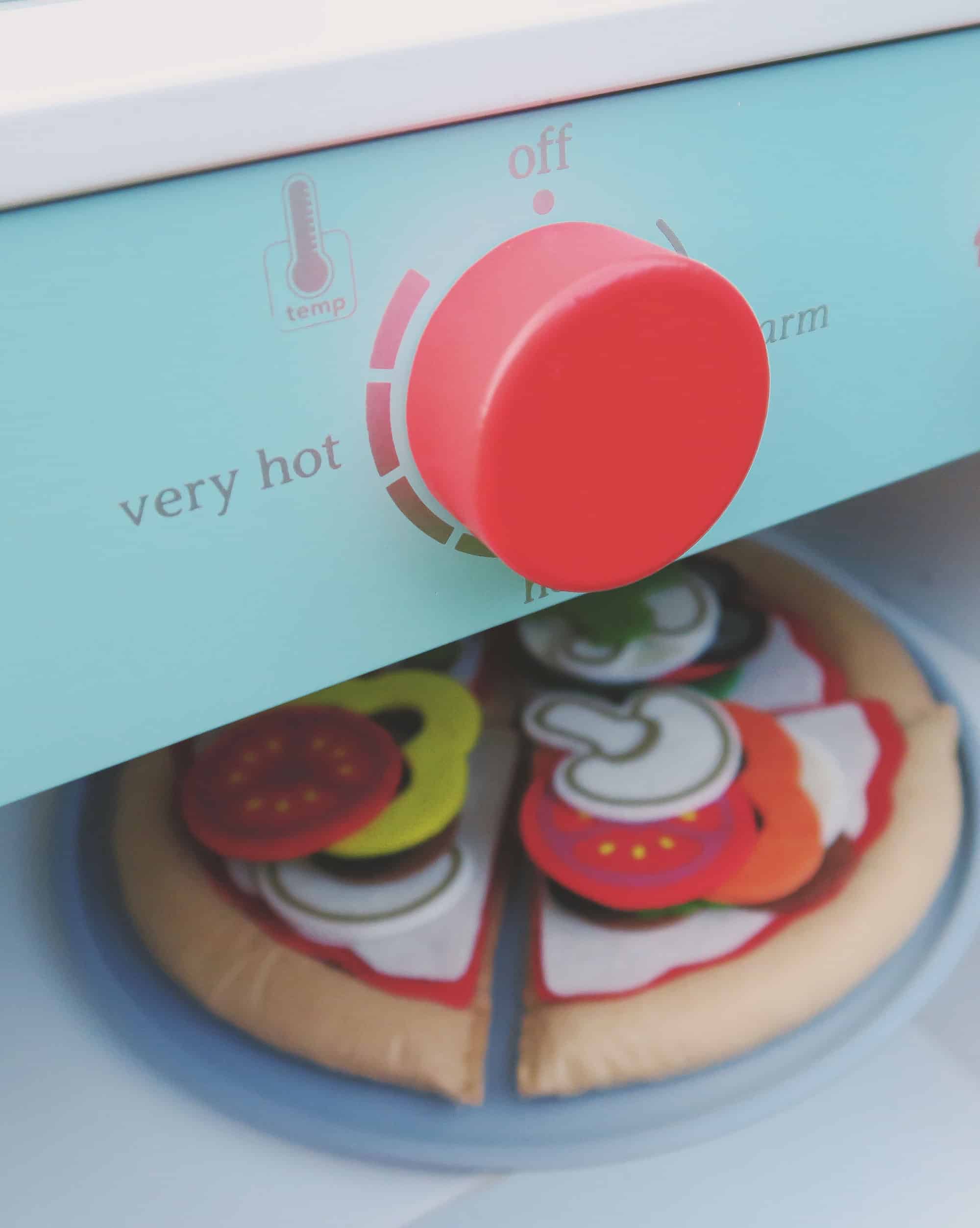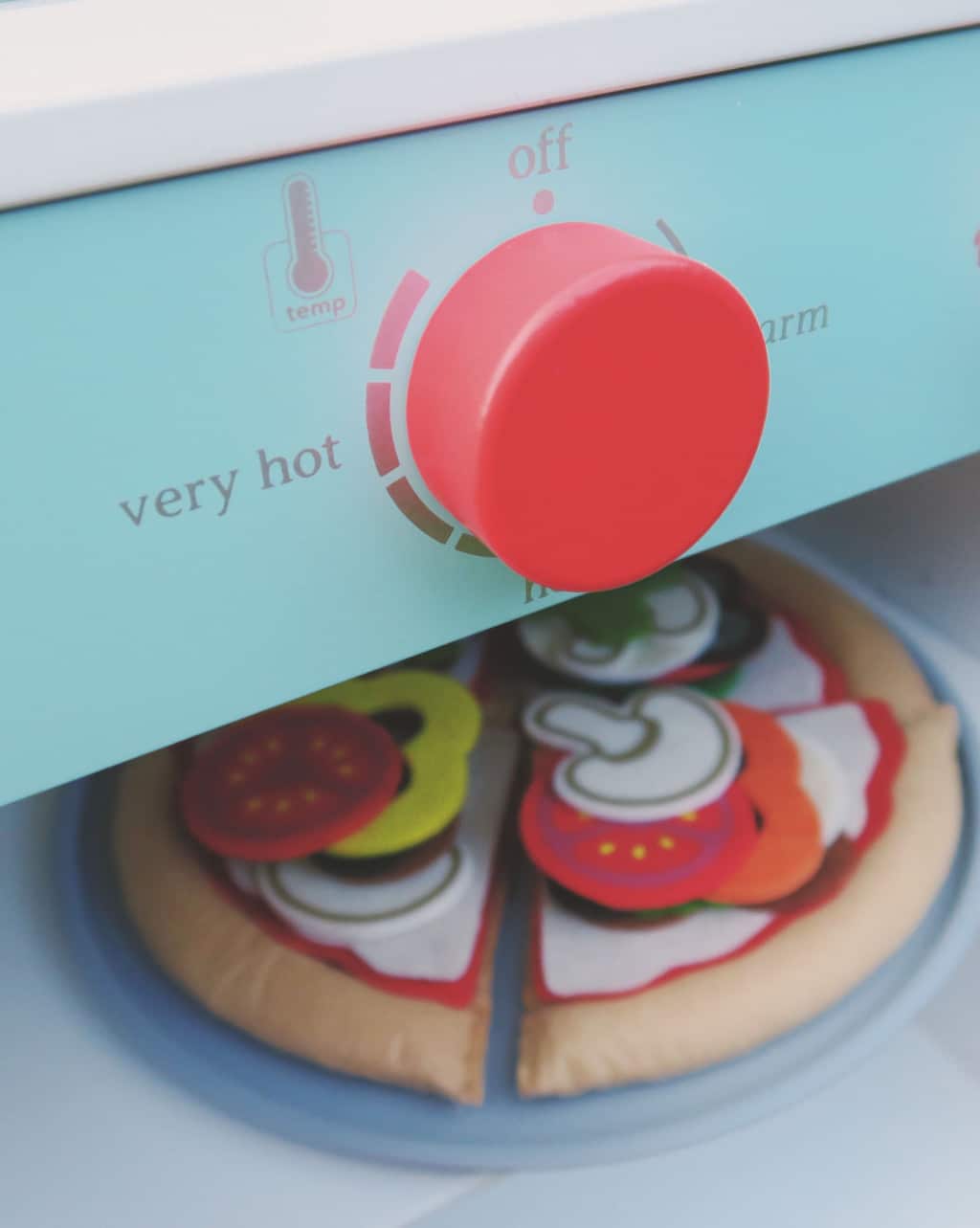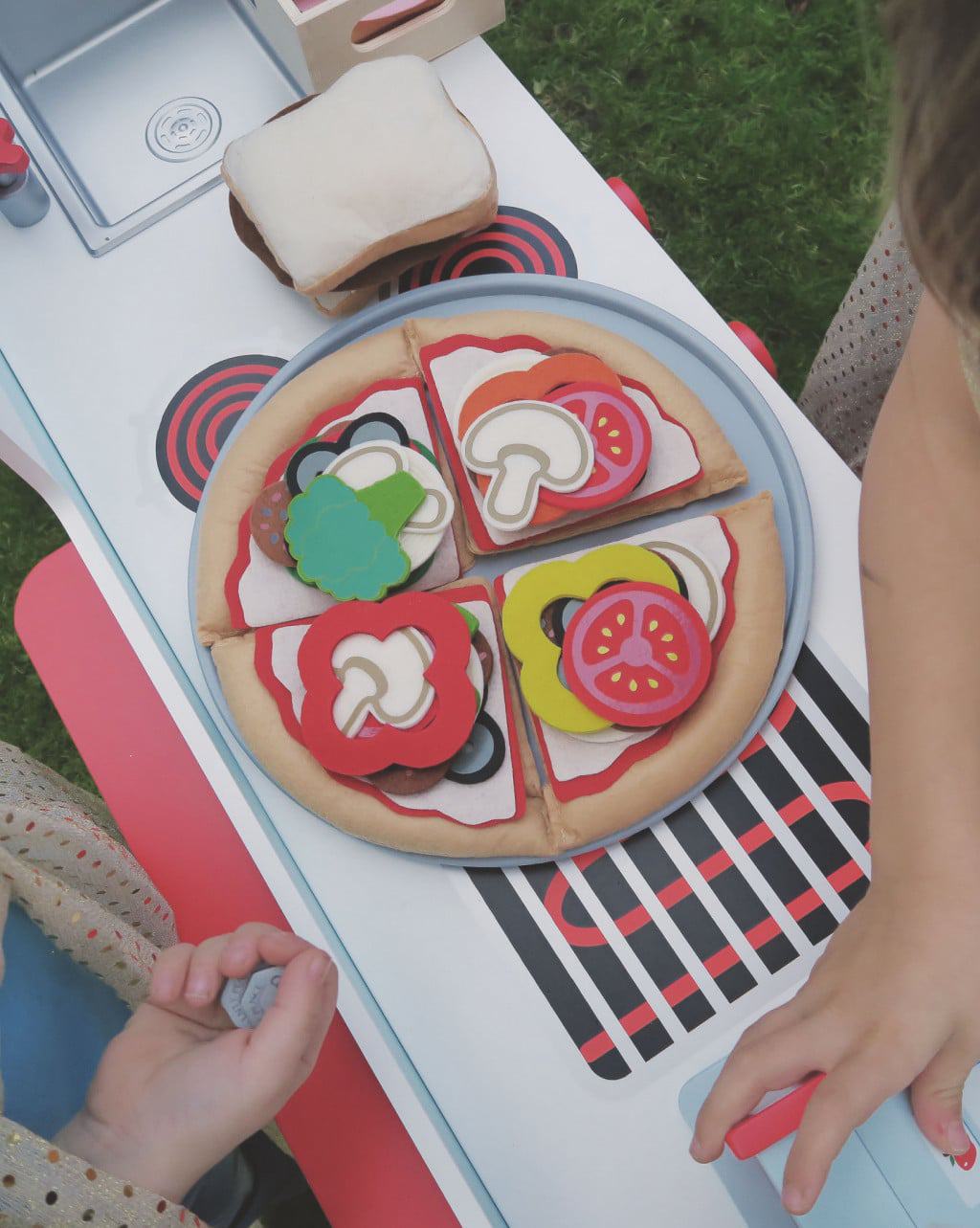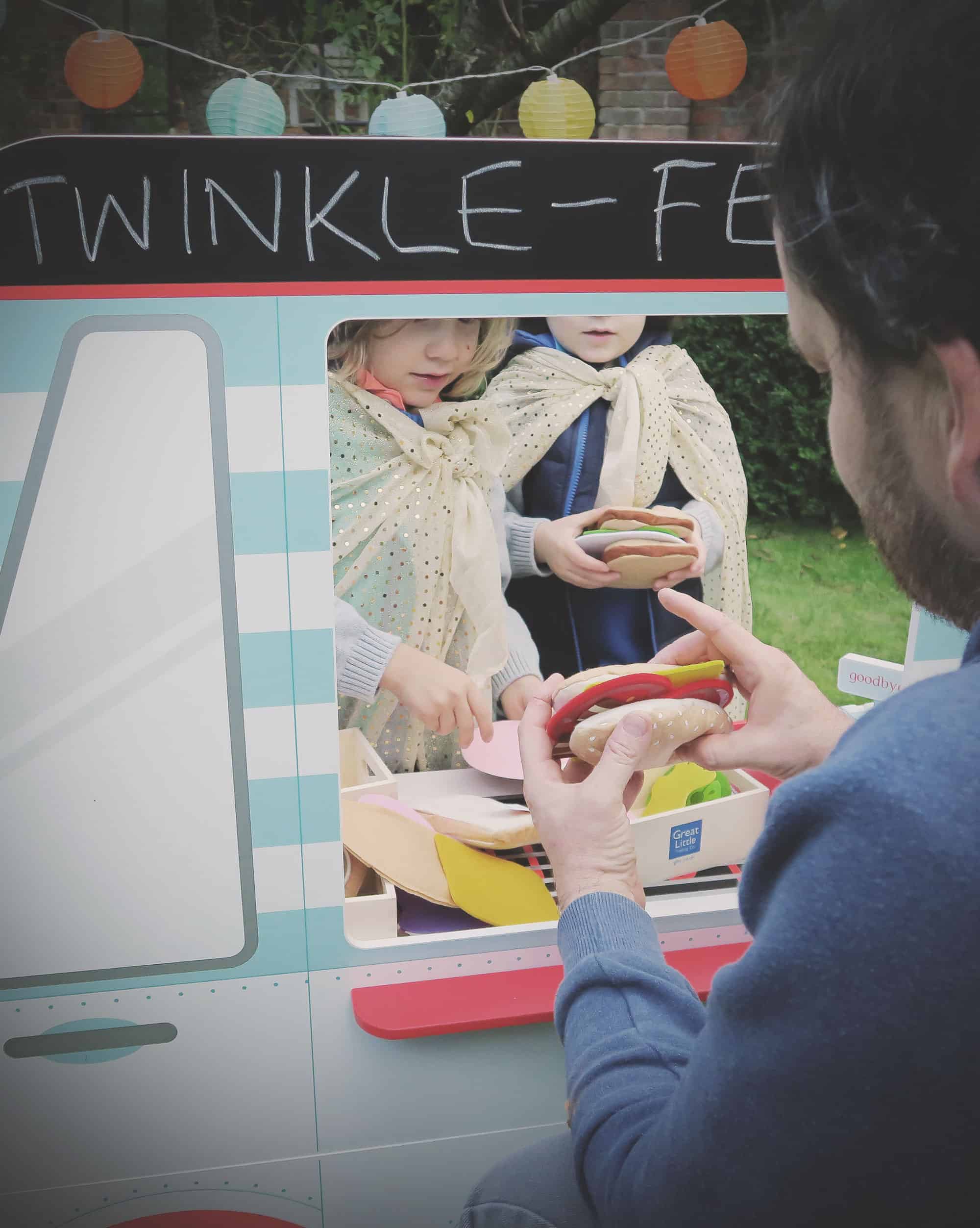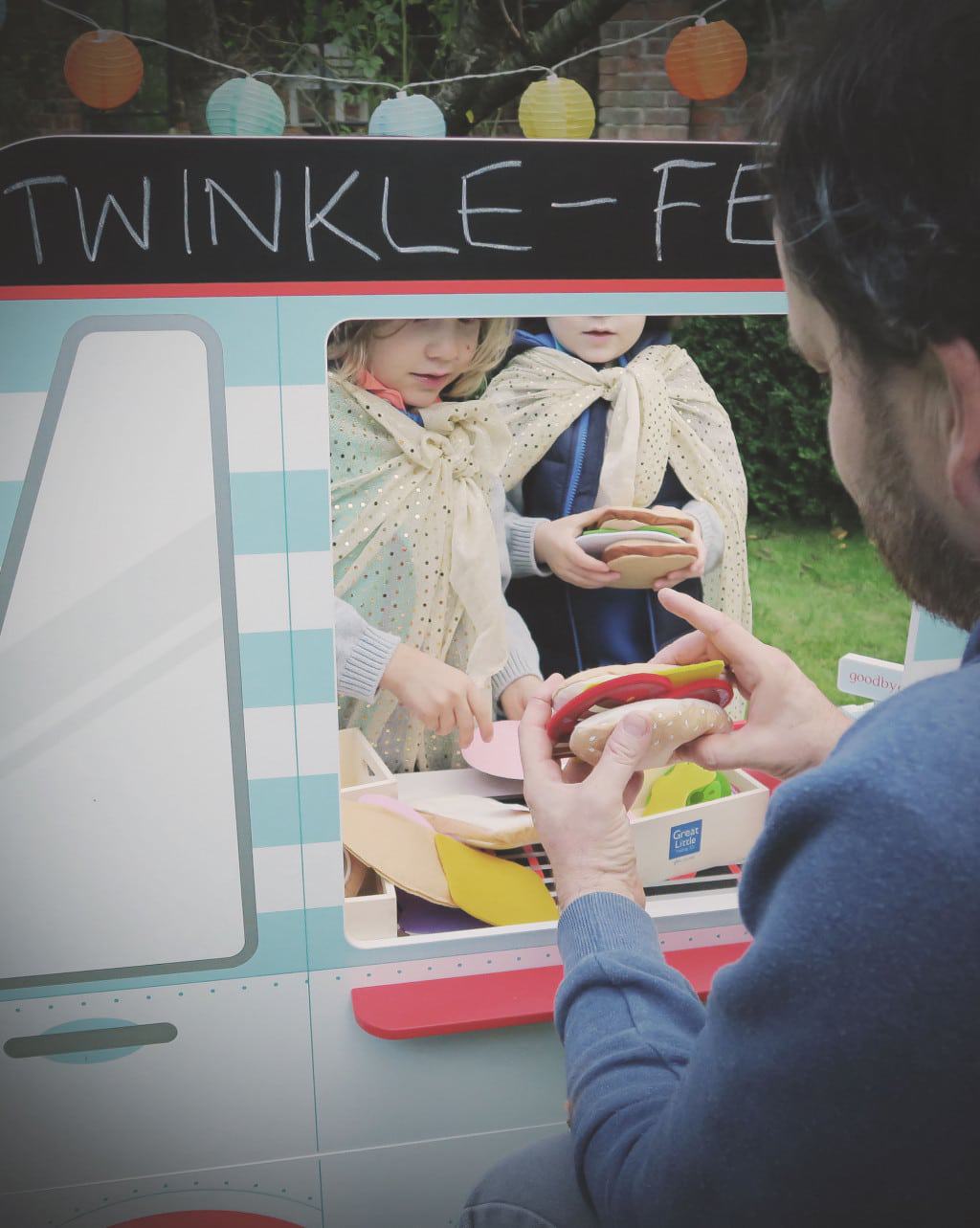 So there we have it.
If you're wanting something that will keep the little people in your life amused — for longer than just the Christmas holidays — the GLTC Festival Van / Play Kitchen is just the ticket.
My two little testing team members both love it and have given it a — very enthusiastic — double thumbs up.
It has more novelty factor and playability than your average play kitchen and (as long as you don't mind accepting endless cups of 'pretend tea' or 'make believe burgers') you won't regret making the investment.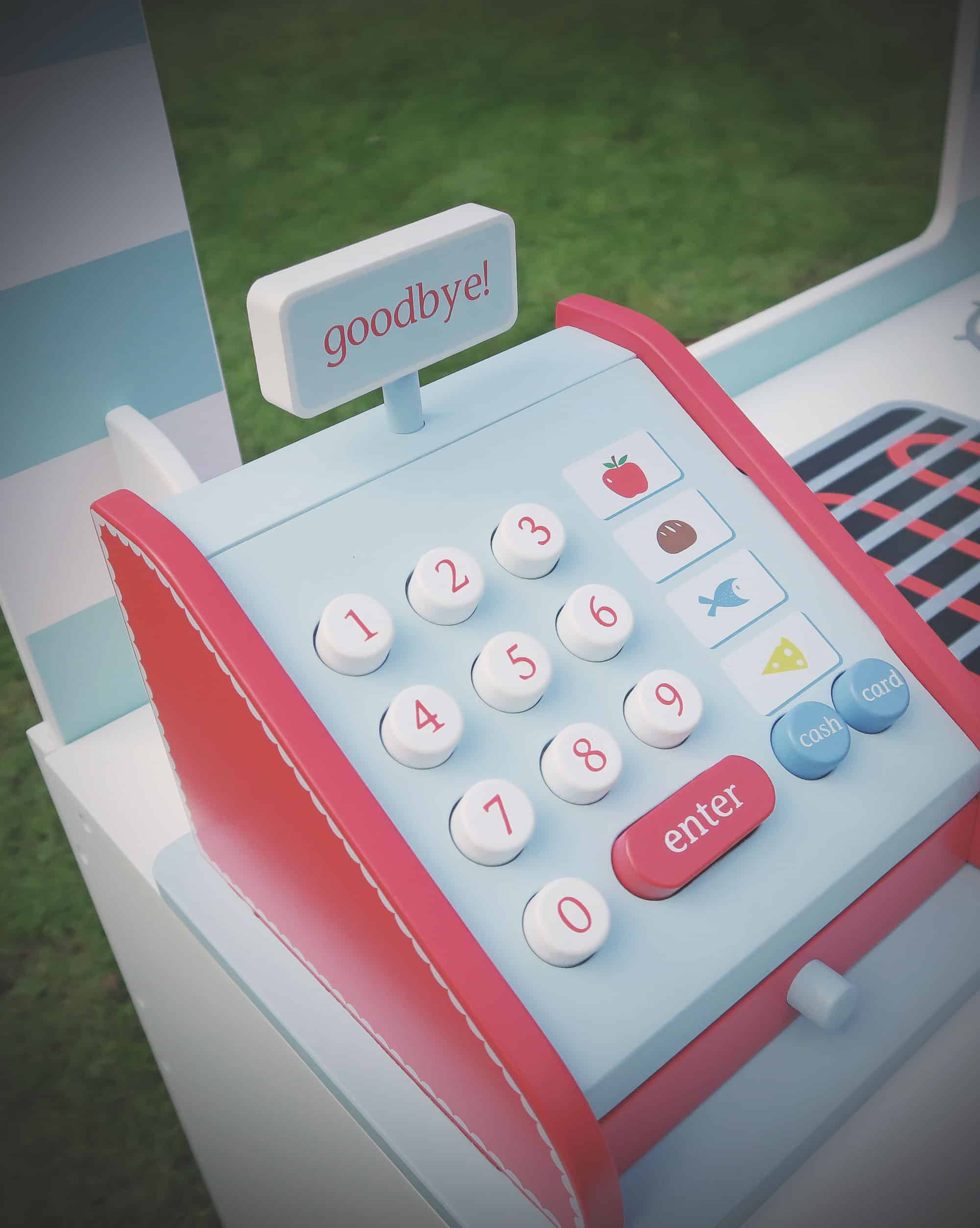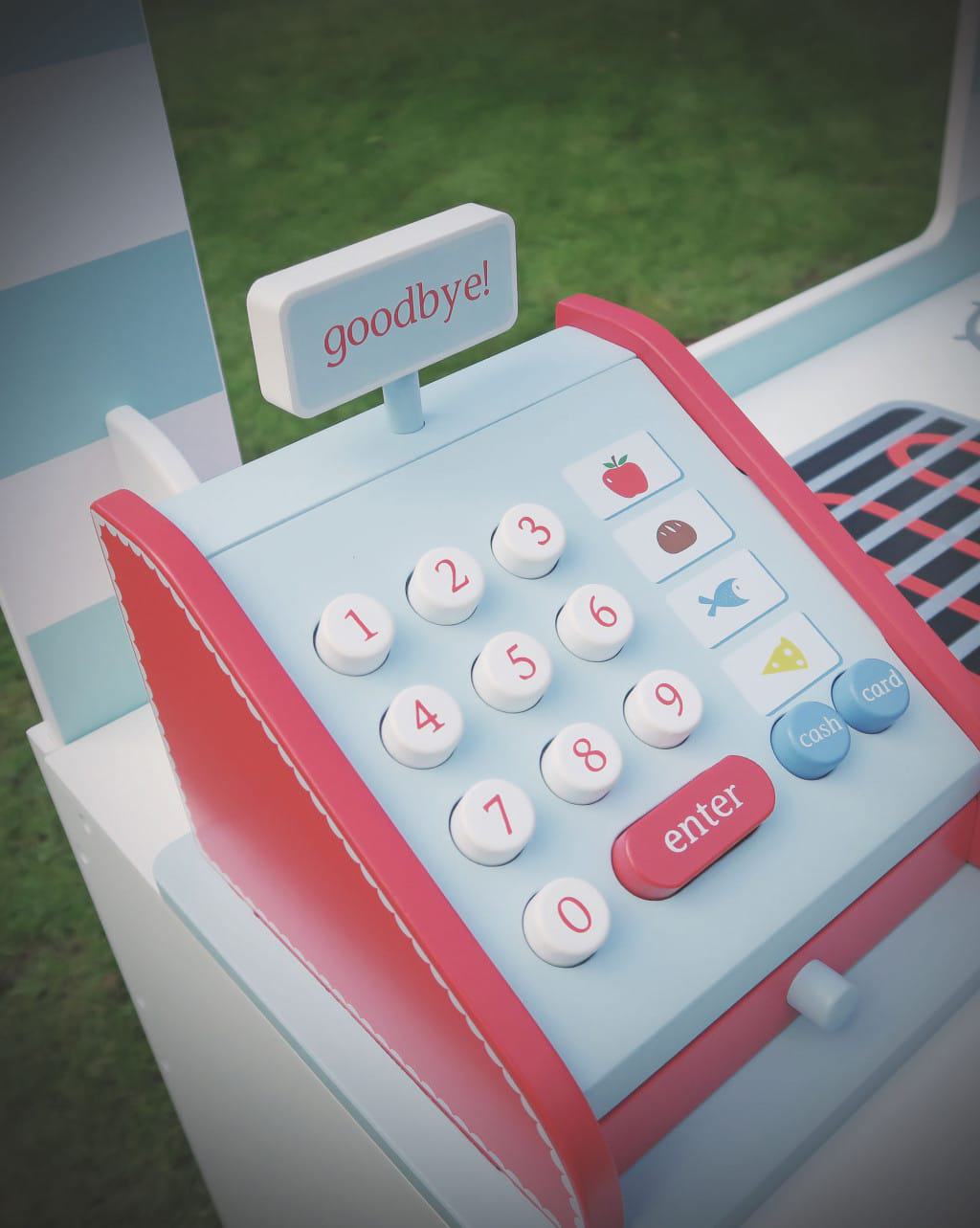 Just to reiterate:  it took Mr D — who's pretty handy with his tools — around an hour and a half to put the play kitchen together.
If you're going to buy it as a Christmas gift, I'd recommend that you set aside some time beforehand to assemble it all;  to ensure that your budding chefs will be able to cook up a storm on Christmas morning!
GLTC kindly gave the twins this play kitchen to put through its paces but all thoughts, words and images, as ever, are entirely my own.